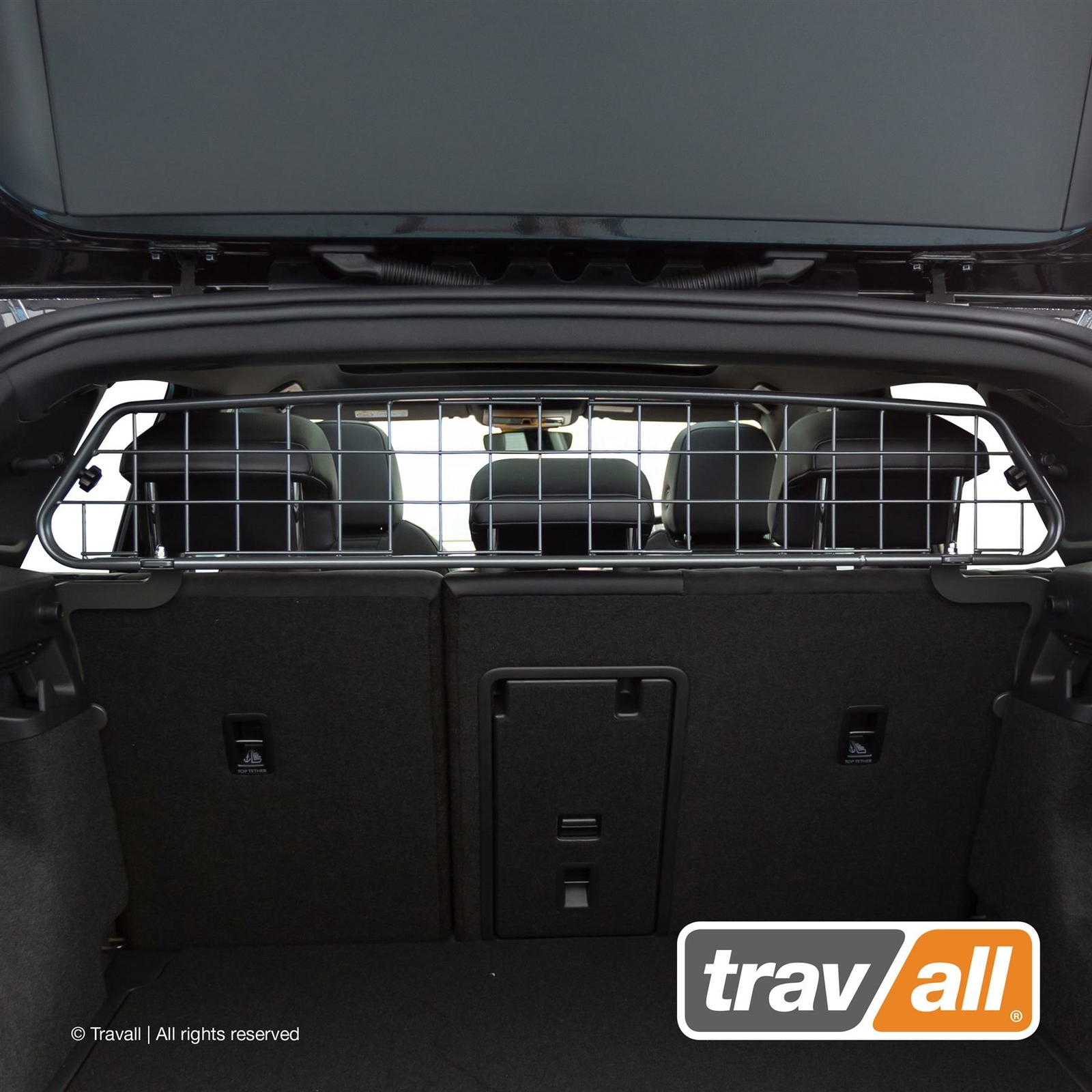 Price: 215.00 USD
Electric Vehicle Part Info:
Travall Dog Pet Barrier Guard for Volkswagen ID.4 2020 ->





In stock, ready to ship (US delivery 2-5 days)


Description
This is a listing for a Dog / Pet / Cargo Barrier for a Volkswagen ID.4
Vehicle-specific accessory for stopping your car trunk contents from entering the passenger cabin.
A perfect, rattle-free fit, superior to that of universal guards.
Original quality vehicle specific design.
Supplied with fitting kit and simple-to-follow fitting guide.
No drilling or vehicle modifications required.
Easy DIY installation.
Limited lifetime warranty.*
Specification
| | |
| --- | --- |
| Brand | Travall |
| Part Number | TDG1679 |
| Colour | Dark Grey |
| Material | Nylon powder coated mild steel |
| Country | United Kingdom |
| Parcel shelf / load cover compatible | Yes |
| Vehicle modification required | No |
| Product Type | Dog Pet Guard Barrier |
| Installation Time | 15 minutes |
| Warranty | Lifetime Warranty [Against manufacturing defect only] |
| Quantity | |
This Product Fits the following vehicles:

VEHICLE SPECIFIC ACCESSORIES

HUNDREDS OF VEHICLES COVERED

LIMITED LIFETIME WARRANTY
At Travall we offer high-quality, cost-effective vehicle accessories. Established in 2007, our consumer-focused products are easy to install and use. We're proud to be widely acknowledged as the world's leading brand for vehicle-specific barriers and dividers for pets and cargo, the Travall Guard and Divider.
We continue to invest back into our product lines, from new vehicle-specific accessories to additional models of our best selling products. At last count, we offer accessories for over 1000+ models internationally. If you don't see accessories for your vehicle, please let us know!
Backed by the design innovation and engineering expertise of ASG Group, Travall aims to make every journey as enjoyable and stress-free as possible. We've created our high-quality accessories for the way our customers live and the vehicles they drive.
Will a Travall Guard from a similar size car fit my vehicle?
No, Travall Guards are designed to fit each specific make and model. They are not interchangeable, even with a vehicle of a similar size or type.
Are Travall Guards available in other colors?
Travall Guards and Dividers are finished in a neutral grey nylon powder coating, as we find that this color complements the majority of vehicle interiors.
My vehicle is fitted with a sunroof. Will a Travall Guard still fit correctly?
Wherever possible, we try to develop Guards to fit both non-sunroof and sunroof versions of a particular vehicle. Those fitted with a sunroof generally have a lower interior roof to incorporate the sunroof mechanism. This can lead to fitting problems on some models, so please read the product listings thoroughly and, if in doubt, send us an email.
I have misplaced some parts from my Travall Guard fitting kit. Is it possible to order the parts required?
Yes, we can supply parts to order. Please use the ebay messaging service.
I am looking to buy a Travall Guard, but there are two different vehicles shown for my model year, how do I choose?
Sometimes vehicle manufacturers continue to sell the previous year's model alongside a brand new model, which can be confusing. Look carefully at the images of the vehicles on our site, and if you still can't decide, please send us an email. We'll email you back requesting photographs of the vehicle (preferably front and rear views). We'll then be able to help you choose the right accessories for your vehicle.
Where are Travall Guards and Dividers made?
Travall Guards and Dividers are designed and manufactured in Derby, a city at the heart of the United Kingdom famous for its engineering heritage.
Are Travall products easy to install?
The Travall Guard can usually be fitted in an average of 30 minutes, while our Dividers take just a few minutes to install. Both can be removed quickly and easily when not required.
Will a Travall Divider fit with another brand of barrier?
No, Travall Dividers are only compatible with Travall Guards and are not designed to be used with any other manufacturer's product.
I've lost the fitting guide that came with my Travall Guard, can I get a replacement?
You'll find the exact same step-by-step installation guide on the appropriate product page on our website. This is in a format which can be both saved and printed.
I'm having problems fitting a Travall Guard into my car, what should I do?
If you are experiencing any problems with fitting a Travall accessory, or are unsure about a particular point in the fitting guide, please send us an email. Please have your order number order and product number handy so that our customer service team can resolve any problems quickly and effectively.
Can the load cover/cargo shelf still be used with the Travall Guard in place?
Usually yes. There are very few Travall Guards which don't allow you to also use the cargo shelf while the barrier is fitted.
Can the Divider be fixed into alternative positions?
While our original Dividers can only be placed in a central position, the majority of newer Travall Dividers can be installed in three positions.
If you have a question about Travall products that's not been covered here send us an email through the contact page.
If you have any queries, you can contact us 24/7 via eBay messaging system.
PLEASE NOTE: Travall is based in the UK and all parts sold on eBay are shipped from the UK.
We aim to dispatch orders within 1 working day. Orders placed on UK Bank Holidays will dispatch on the next UK working day.
At this time we cannot deliver to PO boxes, to Army Post Offices (APOs) or Fleet Post Offices (FPOs). We are sorry for any inconvenience. If you would like to send a Travall accessory to someone in the armed services the best suggestion is to have the accessory shipped to yourself and then utilize the U.S. Postal Service to send it.
Order Tracking and Assistance
After you've ordered you'll receive a confirmation email with your purchase details. The courier will also email you directly, providing you with a reference number and website link through which you can track your order and check the expected delivery time.
Shipping Rates
Our shipping rates reflect the actual cost of shipping to your provided address and ensure complete transparency when it comes to shipping rates. If an incorrect delivery charge is applied at the point of purchase due to a user error, we reserve the right to withhold shipment until any outstanding balance is paid.
Shipping rates will vary depending on the delivery location. Shipping times are generally between 3-5 working days.
Non-Delivery
A common reason for non-delivery is that there was no one at the shipping address to sign for your order. If you are in any way unsure whether you will be present when your delivery arrives, please provide us with a different shipping address, or give a neighbor written permission to sign for the order. In the event of non-delivery, goods will be returned to Travall and a return surcharge applied, along with the original delivery cost. Any money refunded to you will be minus these charges.
Above all else, we believe that quality and design are what sets Travall apart.
We are confident in our product and offer a unique, limited lifetime warranty which means that our Travall Guards and Dividers are guaranteed against manufacturing defects that may arise under normal and acceptable usage during the lifetime of your accessories.
Travall is the largest vehicle-specific barrier manufacturer in the world, with hundreds of different vehicle makes and models available. Each is designed to the exact specifications of the vehicle you drive.
Our dedicated design team of skilled and experienced engineers measure every critical aspect of each vehicle to ensure a precise installation.
Travall pet barriers are manufactured from steel, following a unique oval profile that is specific to each Guard and Divider that provides increased strength compared to standard square ones used by other manufacturers. All tube and sheet metal parts are precision laser-cut and then welded using a combination of both robotic and manual processes to achieve the best possible result. We finish the manufacturing process with our environmentally friendly nylon powder coating.
Assembled Guards and components are dipped in a bed of nylon powder coat to ensure total coverage and then baked at a very high temperature to bond the nylon coating to the steel, resulting in an ultra-durable, metallic grey finish. Once cooled the guards and fitting kits undergo final quality checks before being packed for distribution and sale across the globe.
If you aren't completely satisfied with your Travall accessory you may return it within 30 days of the delivery date of your order for a hassle-free refund of the product's payment price. Please contact us within 14 days of delivery with your intent to return. Refunds on returns do not include shipping costs. Your accessories must be in like-new condition, with all parts and original packaging. Please send to:
Make sure your Return Merchandise Authorization (RMA) number is prominently displayed on the label.
**If you feel that there is a manufacturer's defect in your Travall accessory, please wait until we contact you on the next business day before returning your order.**
Return shipping costs are your responsibility.
After your return is received and processed at our warehouse we will be able to issue your product refund.
Please feel free to contact our customer services team should you need any further assistance.