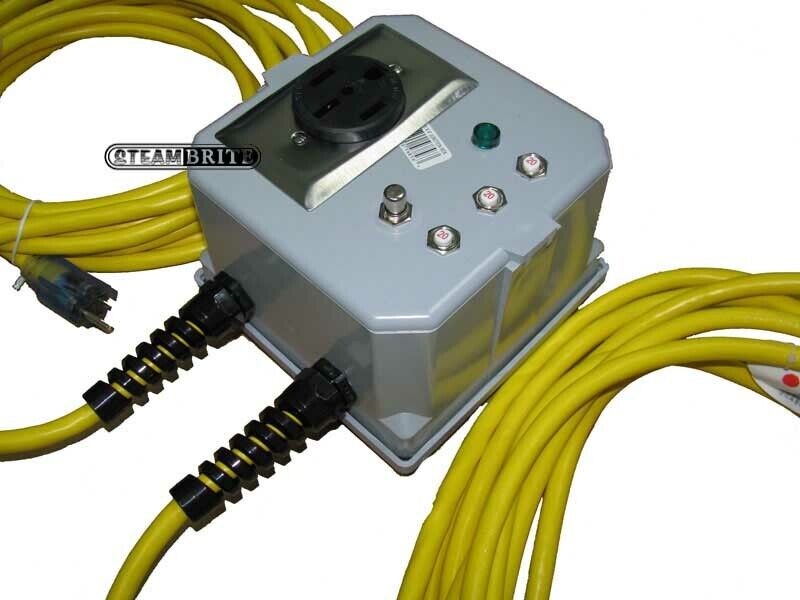 Price: 349.00 USD
Electric Vehicle Part Info:
Tesla Travel Power Supply Joiner 14-50R Step Up Inverter Electric Charger Acces




Tesla Travel Power Cord Adapter Inverter (Reverse Converter) Takes two 120 volt outlets and allows you to use 240 volt appliances that uses under 20 amp @ 240 volts (under 4800 watts) Single phase current to NEMA 14-50R receptacle.   Commonly used as Level 2 Tesla electric car charger.  Fast and easy 240 volts.
Please set charging speed to 16 amps, 240 Volts, 3840 watts when using this device.  Charges car over 100% faster than the provided Level 1 power cord.
Works with:

Zencar B075TDDJPM Level 2 EV Charger(240V,16A,28ft) Portable EVSE Home Electric Vehicle Charging Station Compatible with Chevy Volt, Nissan Leaf, Fiat, Ford Fusion (L14-30 with Adapter for NEMA14-50)
MUSTART 43237-2
Level 2 Portable EV Charger (25ft Cable, 7.68KW), Electric Vehicle Charger Plug-In EV Charging Station with NEMA 14-50P (32 Amp)
Other 220 to 240 volt receptacles available including but not limited to: NEMA 6-30R, NEMA 6-50R, NEMA 10-30R, 14-30R, 14-50R, more



Perfect for electric cars, pressure washers, welders, plasma cutters, vapor steam cleaners, and other high powered equipment when 230 volt plugs are just not available.
Not for use on GFCI or LDCI 115/120 volt Outlets.
To use simply plug into different outlets and push the momentary button to test voltage.  If the voltage read between 220 to 240 volts you are good to go.  Not all outlet combinations will produce the correct voltage so you have to test before each use.  If you push the voltage test button and it reads 120 volts, simply re-located one of the power cords to a different location and retest.  Every job site location has the ability to provide plus or minus 230/240 volts.  If you use 15 amp 115/120 volt circuits then you will only be able to operate 15 amp 230/240 volt equipment.  If your pressure washer needs 23 amps @ 230 volts and you are plugged into 20 amp 115 volt outlets, you will need to turn the pressure down to lower the amp draw.  Just turn the pressure regulator / unloader knob counter clockwise.  The less pressure, the less horse power is needed to turn the electric motor and this will lower the amp draw.  
Until both 120 volt power cords are connected to a 120 volt electrical source, it is electrically isolated from the electrical circuit of the expososed male plug on the 2nd power cord.  This protects the user from accidental shock through the exposed male plug contact.
Plastic Box is 6″ X 6″ X 4″
Dual 12-3 X 25 ft power cords with triple 20 amp push breakers.
Green Light Voltage Notification/Confirmation that the cords are plugged in correctly.
Rubber feet on bottom of box.

Works with all plug in hybrids and EV including but not limited to:
Aston Martin RapidE, Aston Martin Lagonda, Audi A3 Sportback,
Audi e-Tron,
Audi A3 e-Tron,
Audi A9 e-Tron, Audi e-Tron GT, Audi e-Tron Sportback, Bentley EXP 12 Speed 6e, BMW 330e, BMW 530e, BMW 740e, BMW i8, BMW i3,
BMW i3 REx,
BMW iX3, BMW i4, BMW X5, BMW 4-Series GT, BMW iNEXT, Byton,
Cadillac ELR,
Chevy Volt, Chevy Bolt EV, Chrysler Pacifica Hybrid,
Dyson, Faraday Future FF91, Fiat 500e, Fisker eMotion, Ford Evos Hybrid, Ford Focus EV, Ford C-Max, Ford C-Max Energi, Ford Fushion Energi,
Ford Model E, Honda Clarity, Honda Fit EV, Honda Urban EV, Hyundai Ioniq EV, Hyundai Kona electric, Hyundai Nexo, Jaguar I-Pace,
Jeep Wrangler Electric, Karma Fisker, Kia Niro EV, Kia Soul EV, Kia Stonic EV, Lucid Air, Maserati Alfieri EV, Mercedes-Benz EQA, Mercedes-Benz EQB, Mercedes-Benz EQC, Mercedes-Benz EQS,
Mercedes
-Benz C350e, Mercedes-Benz GLE550e, Mercedes-Benz S550e, Mercedes-Benz B-Class Electric Drive, and B250e,
Mini Electric, Mini Countryman,
Mitsubishi e-Evoltuion, Mitsubishi Outlander PHEV,
Nissan Leaf,
Puegeot e-208, Prosche Cayenne S E-Hybrid, Porsche Panamera SE Hybrid, Porsche Panamera 4 E-Hybrid, Porsche Taycan, Renault Zoe, Rivian R1S, Rivian R1T, Seat Mii Electric, Skoda Citigo E, Skoda Vision E, Sono Sion, Smart ED, Smart EQ Fortwo,
Subaru Crosstrek PHEV,
Tesla Roadster, Tesla Model X, Tesla Model S 70D, Tesla Model S P85D, Tesla Model 3, Tesla Model S 100D, Tesla Model Y, Tesla Model X 100D, Tesla Model S P100D, Tesla Model X P100D, Toyota Prius Prime, Toyota Mirai,  Volkswagen E-Golf, Volkswagen e-Up, Volkswagen I.D. Buzz, Volkswagen I.D. Crozz, Volkwagen I.D. Lounge, Volkswagen I.D. Neo, Volkswagen II.D Vizzion, Volvo XC40, Volvo XC60, Volvo XC90,
xDrive40e
and many many more…
You must test both wall outlets with a receptacle polarity tester before use!

 Note: User assumes all responsibility on use.  It is the users responsibility to check the inbound voltage, outbound voltage, and total amp draw to verify these are not going to be overloaded.  The user agrees to test the amp draw of any appliance or machine that they plug into these converters to ensure they are not being overloaded. Meters are cheap and mistakes are expensive.  You can purchase a meter at [link removed by eBay] 
User agrees to hold Steam Brite, its employees, and agents harmless in the event of any use of said use of converter.  The user agrees to not hold SteamBrite and all employee against any problems that arise out of the use of said converters/ inverters.  Remember, just because it plugs in does not mean it is OK to use!
Please remember the 80/20 electrical rule.  If you are going to plug into a 15 amp outlet and draw long term the device needs to be under 80% of 15 amps = 12 amps max.
If I plug into dual 20 amp breakers long term then the 80/20 rules math is 20 amps X 80% = Set to 16 amps max draw.  
The Telsa Electric Cars use 14-50R outlets.
For the Ford Focus you can purchase the 14-50P Plug and install on the end of your cord kit.  Other Ford Focus uses have purchased the 10-30R unit so they can use the optional extension cord.

Testimonial:

"I primarily purchased the converter box solely for charging my
Tesla
vehicle when I find myself visiting friends or family whom do not have a 220v outlet I can use. The converter purchased from your website has been extremely convenient, I simply keep it in my
trunk
, so I always have it when I need it. The cords are extremely long, and the charge time is significantly shorter than a regular 110v outlet;  I would definitely recommend this product to others.
Thanks."
Jared, Moreno Valley, CA 92555 
Note: for some Tesla owners you have to manual lower the amp draw charge on the onboard computer to 240 volts 16 amps from the default 32 amps.  This will allow you to charge the car 100% faster than 120 volts @ 16 amps.
Manufacture 90 day warranty.  Add optional 2 or 4 more years for a little more.

Optional:

.
What comes with most electric cars is a factory provided 120 volts 16 amps or 1920 watt charging cord.
A level 2 charging speed is 240 volts 16 amps or 3840 watt charging cord.  This is 100% faster than the default factory included cord.
Fast speed and adjustable chargers are 240 volts up to 32 amps or 7680 watts.  This is 100% faster than the 3840 watt charging cord and 400% faster than the factory provided cord.

Why Adjustable?
Set to 16 amps @ 240 volts, 24 amps @ 240 volts, or 32 amp @ 240 volt.  The more time you have to charge your car, it's best set to the lowest setting.
Example: if I have the entire night and can leave the car on charge for 6 hours, set to 16 amps.  If traveling and using the optional Reverse14-50R box below, set to 16 amps.  If stopping at home for lunch and only have an hour before I leave again, set to 32 amps.   If I only have about 4 hours to charge my car, set to 24 amps.
1.  32 Amp @ 240 volt is super fast charging when you need fast charging. 
2.  The longer and slower you take to charge your batteries, the longer the batteries will last in both years as well as per charge.  (Changing all the car batteries is expensive and this charger will maximize their lifespan!)  Your batteries will last longer in both years before they will no longer hold a charge was well as each charge is more complete (each individual charge last longer.)
3.  Take with you on the go.  See below.  Set to 16 amp and use this optional converter box.