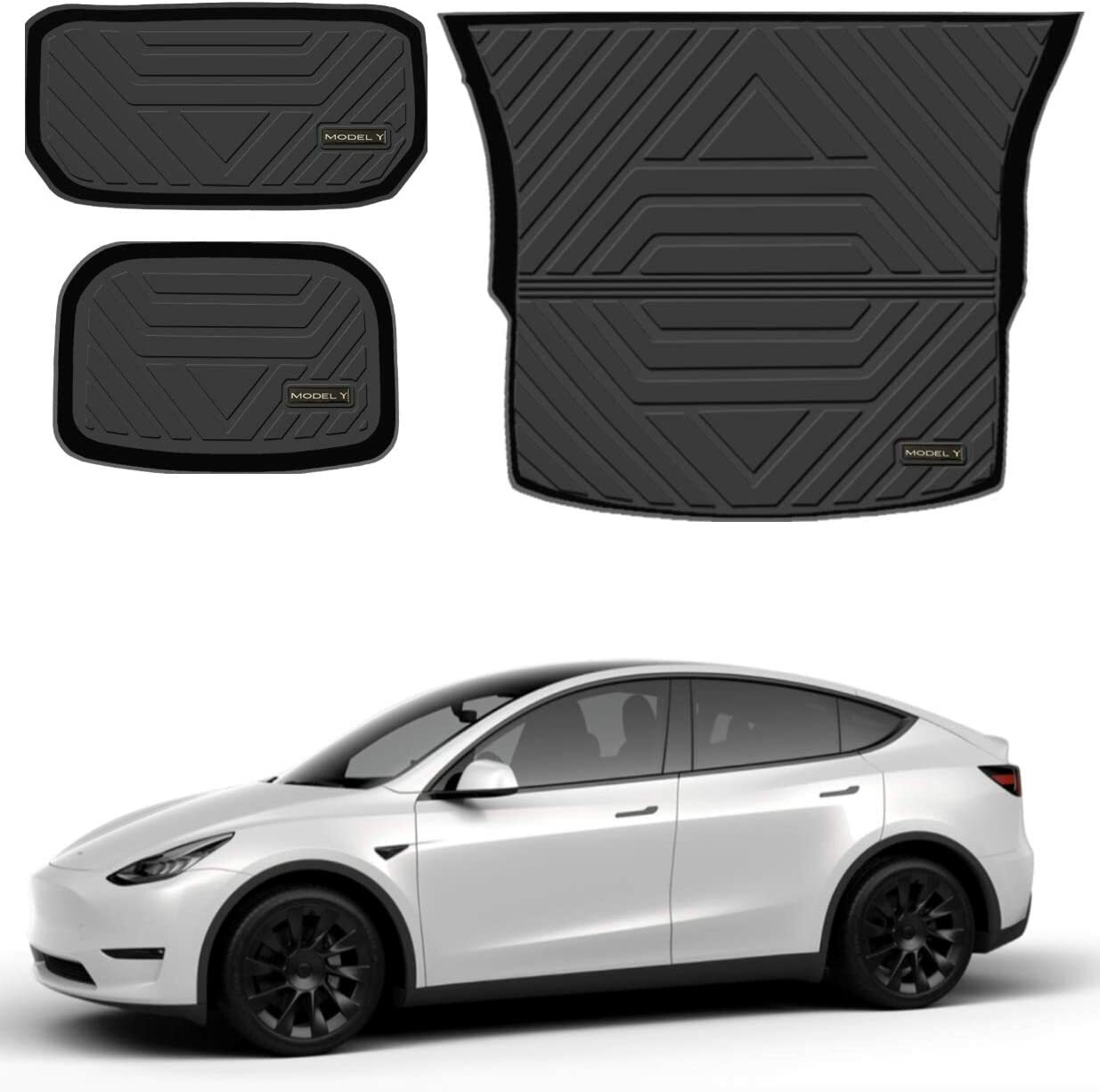 Price: 92.00 USD
Tesla Part Info:
Tesla Model Y Trunk Mat Front Trunk Liner TPE Rear Trunk Storage Mat 3pcs/set
Front Trunk Mat Accessories + Storage Mat Accessories + Trunk Mat Accessories Compatible with Tesla Model Y – All Weather – Heavy Duty
TPE Material Tesla Model Y Trunk Mat, Model Y Full Cover 3D Mat,  All-Weather Floor Mats & Trunk Cargo Liners Custom Fit Eco-Friendly Heavy Duty Rubber Odorless Model Y Accessories 3 Pcs
Fit Tesla Model Y Trunk Mats Front Trunk Liner TPE Rear Trunk Storage Mat Cargo Liners All Weather Tesla Model Y Accessories (Set of 3 Mats)
Specification:
– Condition:100% New
– Type: Tesla model Y Accessories
– Side Location: Fit Tesla Model Y Trunk Mats Front Trunk Liner
– Fitment Type: Direct Replacement
– Size: As Tesla Model Y
– Durable TPE Material Without Irritating Smell, High Strength & Resilience.
Fit for:
2020 2021 2022Tesla Model Y All Model
Package Include:
1* Tesla Model Y Front Trunk Mat
2* Tesla Model Y Rear Trunk Mat
Feature:
1. Set: A total of three pieces, including the front trunk mat, the rear storage mat, and the rear trunk mat.
2. Edge-to-edge mat design for maximum coverage and protection
3. Molded from flexible, skid-resistant rubber, these durable Cargo Area Trays help prevent cargo from moving about as you drive, protecting against spills, dirt, grease and grime,yet remove and install in seconds for easy cleaning.
4. Installation: Fast and simple installation. No tools are needed, just put it in the car.
Material:
1. The thermoplastic elastomer TPE material has become the latest material to replace the traditional rubber. It is environmentally friendly, non-toxic, comfortable to the touch, and exquisite in appearance.
2. TPE materials are all green materials and do not contain halogen elements such as F, Cl, Br, I, and heavy metals such as Cr, Cd, Hg, and Pb. Through ROHS, RACH, PAHS, FDA, LFGB, and other international environmental protection certifications, it meets European and American low-toxicity and environmental protection testing requirements.
3. TPE material has superior physical properties. Soft-touch, high elasticity, mild texture, adjustable surface gloss and fog brightness, low smoke, no halogen, no scale, excellent oil resistance, weather resistance, aging resistance, interference resistance, ozone, and chemical resistance.