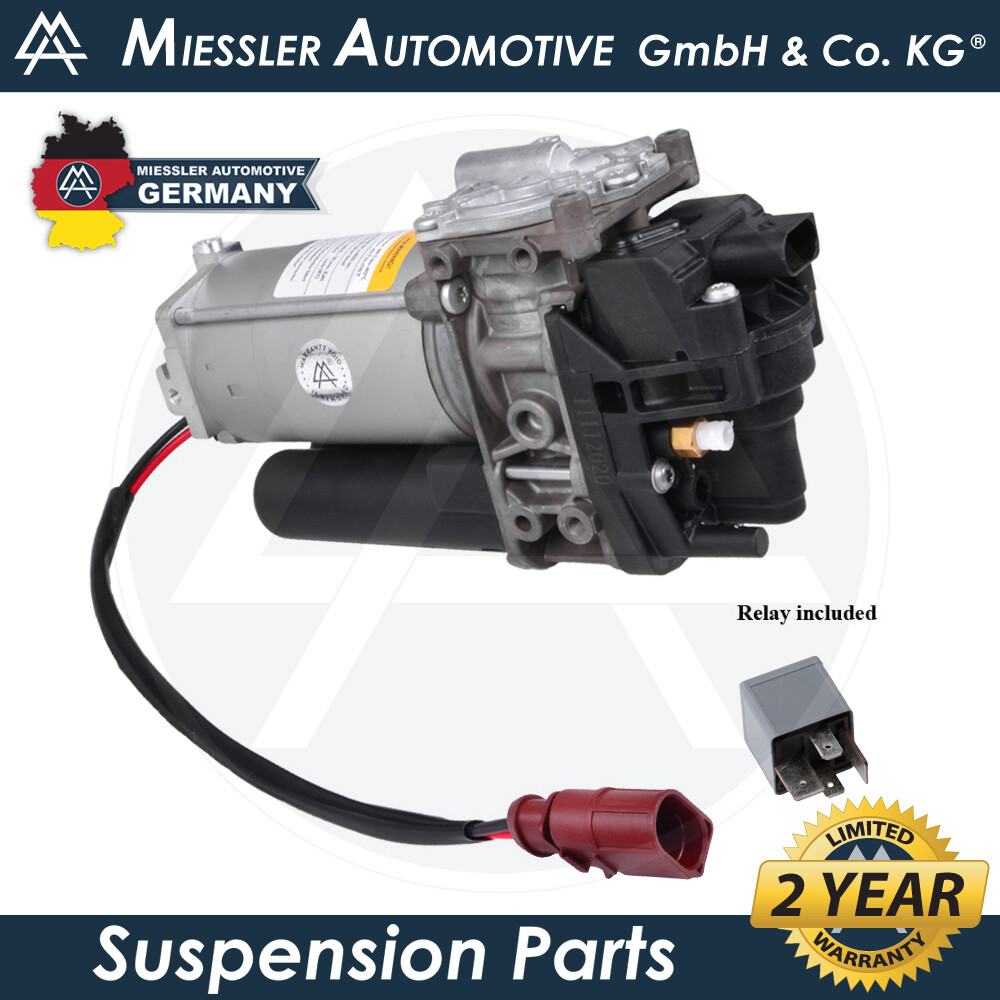 Price: 487.00 USD
Tesla Part Info:
Tesla Model X 2015-2020 NEW Air Suspension Compressor & Relay 1027911-00-H
Tesla Model X 2015-2020 NEW MIESSLER Air Suspension Compressor & Relay Kit comes ready for install. This Kit Includes the Suspension Compressor and the Compressor Relay. The Suspension Compressor inflates or deflates the Air Spring Bags as needed.

When the vehicle drops below factory height, the compressor turns on and fills the air bags. Our Suspension Compressors come with a **Limited 2 Year Warranty** against any manufacturer defects. 
This is a 
NEW MIESSLER Compressor. Every single component is NEW and NOT Remanufactured. The Suspension Compressor Relay. It Supplies Power to the Compressor. When the Compressor Overheats it can cause damage to the Relay and need replacement. 

This Listing is for 1 Tesla Model X 2015-2020 NEW MIESSLER Air Suspension Compressor & 1 Compressor Relay.

Before You buy a Compressor Please Keep in Mind That the main reason a Compressor Fails is because There is a Leak in the Air Suspension System Causing the Compressor to Overwork and "Burn Out". The Most Common cause for a leak in the system are old leaky Air Struts or Air Springs. Your Compressor Warranty will be voided if Air Struts Have not Been Recently Replaced in your Vehicle. We Recommend that in order to maintain your Air Suspension System in optimal condition you Purchase new Air Struts or Air Springs.
(OEM) ORIGINAL EQUIPMENT #
1027911-00-H , 1027911-00-G , 1027911-00-F , 102791100H , 102791100G , 102791100F , 10R-036089 , 10R036089 
OES WABCO: 4154065000 , 415.406.500.0 , OEM WABCO: 4154063290 , 415.406.329.0 , 4154065000 , 415.406.500.0
Miessler Automotive has been in business for Over 10 Years providing great customer service and support for all of the parts that we sell! We are committed to bringing our customers the Best Price and Parts Quality! OEM quality personalized service and advise. Worldwide express delivery available. 100% Satisfaction is our Guarantee!
USA SHIPPING, HANDLING BROKERAGE FEES & IMPORT TAXES
This part is shipped directly from our Germany warehouse to you. Because of that, all parts are subject to an Import Tax. This Import Tax can vary between 2% to 6% of the part declared value, and the percentage depends on the part type. In addition, the Shipping Company might charge an additional 3% to 5% for Handling/Brokerage fees. Please be advised that any Handling Brokerage Fees or Import Taxes are not included in the purchase price of this part, and the Buyer is responsible for those costs once they received the part. In some cases, the Shipping Company will not release the part until those fees are paid in full.