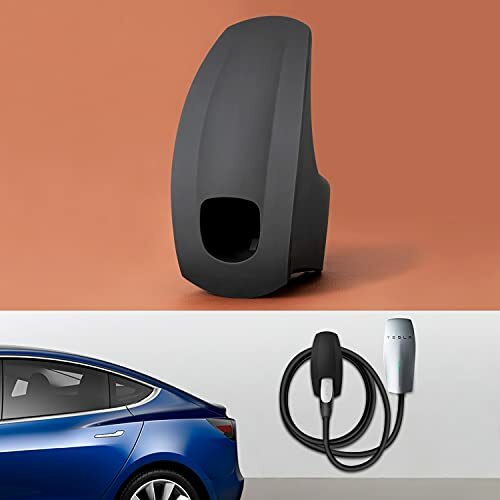 Price: 19.34 USD
Tesla Part Info:
TAPTES Charger Wall Holder Mount/Cable Organizer for All Tesla Motors Wall Co…
TapTes Charging Cable Organizer Upgraded Customized Design for Tesla Model 3/Tesla Model S/Tesla Model X Perfect For Tesla Charger Gen and Wire: The plug-in style TapTes tesla wall connector cable organizer neatly stores the wall connector cable or mobile connector cable when not in use, sturdy enough and has plenty of surface area to hold the cord on the holder well. It can not only protect the charging interface from rainwater,dust, snow; but also make your Tesla charging area neat. Compatible with Various Tesla Models: Customized design for Tesla Model 3, Tesla Model S, Tesla Model X; American Version Only; Other brand(except Tesla) electric vehicle car please do not buy, doesn't work with J1772. Easy to Install: Came with mounting wall anchors and screws. It takes minutes only 2-3 steps to install our TapTes cable and adapter connector organizer, instruction is included. The Tesla adapter head fits tight enough into the slot and there is a "knob" at the bottom that prevents it from sliding out, so lift it up and pull it then it is easier to pick up the charger adapter. Better Material Better Quality: The TapTes Tesla cable organizer wall bracket is much better than a normal holder. Made with ABS + PC plastic and durable material; Ultrasonic treatment, almost no gap between the shells; The surface painted again, so is more delicate and better matched with your high-end luxury Tesla car. Necessary Tesla Accessory: Cables all organized and avoiding drops that were damaging the chargers nozzle after set up our tesla charger cable organizer. Protecting the charging connector inside from rainwater, dust, snow and so on. Includes: 1 x Cable Organizer Bracket for Tesla 1 x Fastener 2 x Wall Anchors 2 x Screws 1 x Bag Backup Screws Note: Do not include the cable, handle and charger that showed in the pictures.
🎁CUSTOM DESIGN PERFECT TESLA ACCESSORIES: TAPTES charging cable holder Customized for American Versions Tesla Model 3 Model Y Model S Model X 2022 2021 2020 2019 2018 2017. You can screw into your garage wall and keep your charging cable off the ground.
Improve Organization: When not in use, the cable end hooks securely on the unit, and it is easy to remove the cable. Sturdy enough to hold the weight of the cable coiled around it.
Easy To Install: TAPTES charger cable organizer ,simple and easy to install and use. The installation only takes 5-10 minutes. No moving parts, putting it on the wall was easy. Two screws secure it to the garage wall.
Generation 2.0: Durable material with V0 Anti Fire,Dual elegant black paint on surface, 5-Procedures for quality control, 50% higher quality standard.