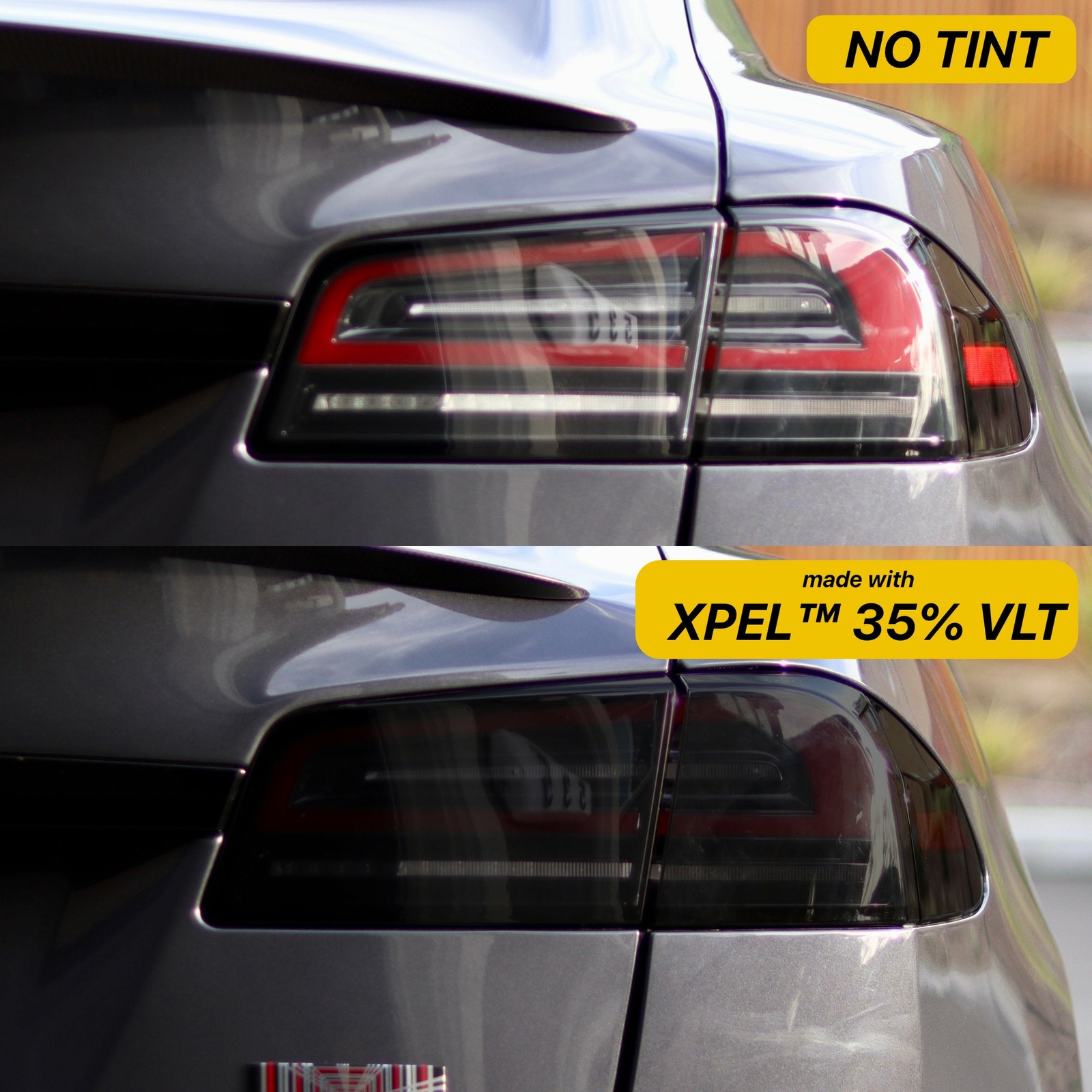 Price: 99.95 USD
Tesla Part Info:
Tail Lights Smoke Tint for 2022+ Tesla Model S




Product Features
🏁 Made for the 2022+ Model S, the one with the new tail lights design introduced around March 2022. Makes your vehicle look more aggressive and stylish.
🧰 Our kit is designed and manufactured in-house and allows for easy DYI installation without a heat gun.
🛡 Protects the tail lights against minor scratches
💪 Install in 30 minutes. Easy to remove/replace.
💎 Precision cutout that doesn't require a heat gun or special skills
📐 This tint is made out of 5 pieces on each side, so it covers the entire tail lights + the bottom reflector

🇺🇸 Made in the USA
What's Included


2 tint cutouts, one for the driver's side and one for the passengers side (each made of 5 pieces)

Spray bottle with soap (you need to fill it up with water)
Squeegee
Installation instructions
 ⚠️ Please check your local laws and make sure it's legal to have tinted tail lights!  ⚠️
Materials & Warranty Disclaimer
We develop our products using our own design models, developed in-house by us. We use materials from various brands that we procure through authorized resellers within the USA and abroad. When you purchase our product, you can select the brand of material that you want us to make it with.
It's important to note, that neither of these brands can provide warranty on their products if they are not installed by a licensed installer. Given that we digitally pre-cut them in-house and you install them yourself, that means that you should not seek warranty claims with the manufacturer of the product. Instead, if you run into any issues during or post-installation, please contact us.
Replacements
If you need to purchase replacement pieces, you can do so [].
Installation
Install difficulty: Medium. 
Install time: ~ 30 min.
Fits: Tesla Model S (Plaid & Long Range) manufactured in March 2022 or later, with the new tail lights design and new bigger charge port.