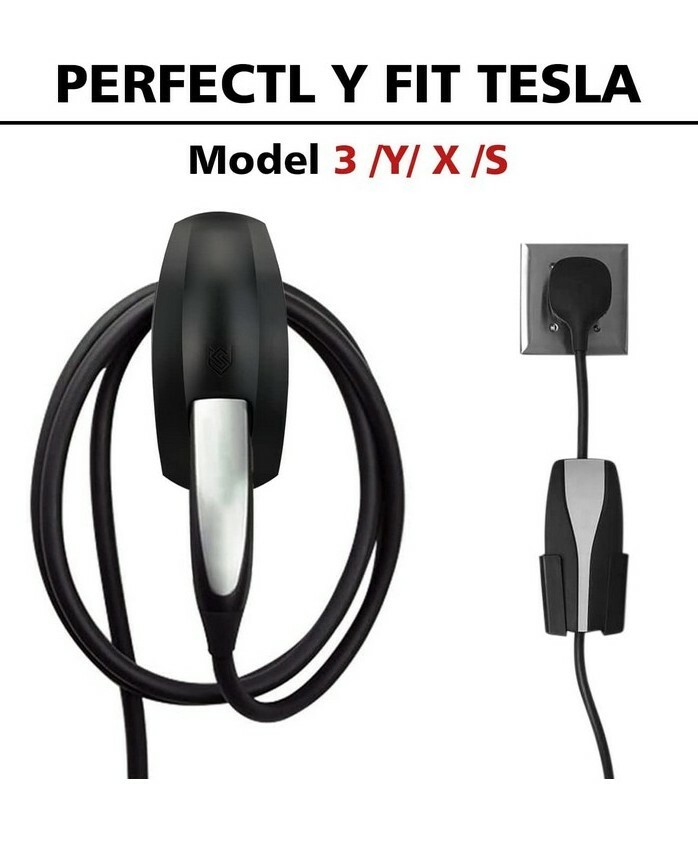 Price: 13.90 USD
Tesla Part Info:
Seven Sparta Charging Cable Holder with Chassis Bracket for Tesla Model 3 Model
Seven Sparta Charging Cable Holder with Chassis Bracket for Tesla Model 3 Model Y Model X Model S Charger Cable Organizer Tesla Accessories Car Wall Connector
Does not include the cable and handle shown in the picture.
Seven Sparta charging cable holder is a simple but effective cable management system for Tesla model 3/model X/model S. You can screw into your garage wall and keep your charging cable off the ground. Only by 2 screws, it will hold the weight of the cable and charger head well. This is generally or use with the Tesla mobile connector and the cable will be neatly wrapped around the holder.
    Keep Charging Cable Organized: When not in use, the cable end hooks securely on the unit, and it is easy to remove the cable. Sturdy enough to hold the weight of the cable coiled around it.
    Easy to install: Simple and easy to install and use. The installation only takes 5-10 minutes. No moving parts, putting it on the wall was easy. Two screws secure it to the garage wall.
Features & details
    BEST ORGANIZER FOR TESLA MODEL 3/MODEL Y/MODEL X/MODEL S: Seven Sparta Charging Cable holder is a perfect holder to hang your Tesla charging cable from in the garage.
    KEEP YOUR CHARGING CABLE NEATLY AND SECURE: The Tesla cable organizer is much better than a normal hook. It does a good job of keeping the cable off of the ground, and protect your cable from falling down accidentally.
    EXTRA CHASSIS BRACKET: Different from the other charger holder on the market, we also provide a extra mobile connector holder to reduce additional wear and tear on your adaptor and outlet.
    SAFE ABS MATERIAL: Tesla charger cable organizer is made from high quality ABS plastic, pass fireproofing grade testing. The bearing capacity can reach above 30KG at least.
    EASY & SECURE INSTALLATION: Tesla charging cable holder takes minutes to install. The charger head fits tight enough into the slot and there is a notch that prevents it from sliding out.