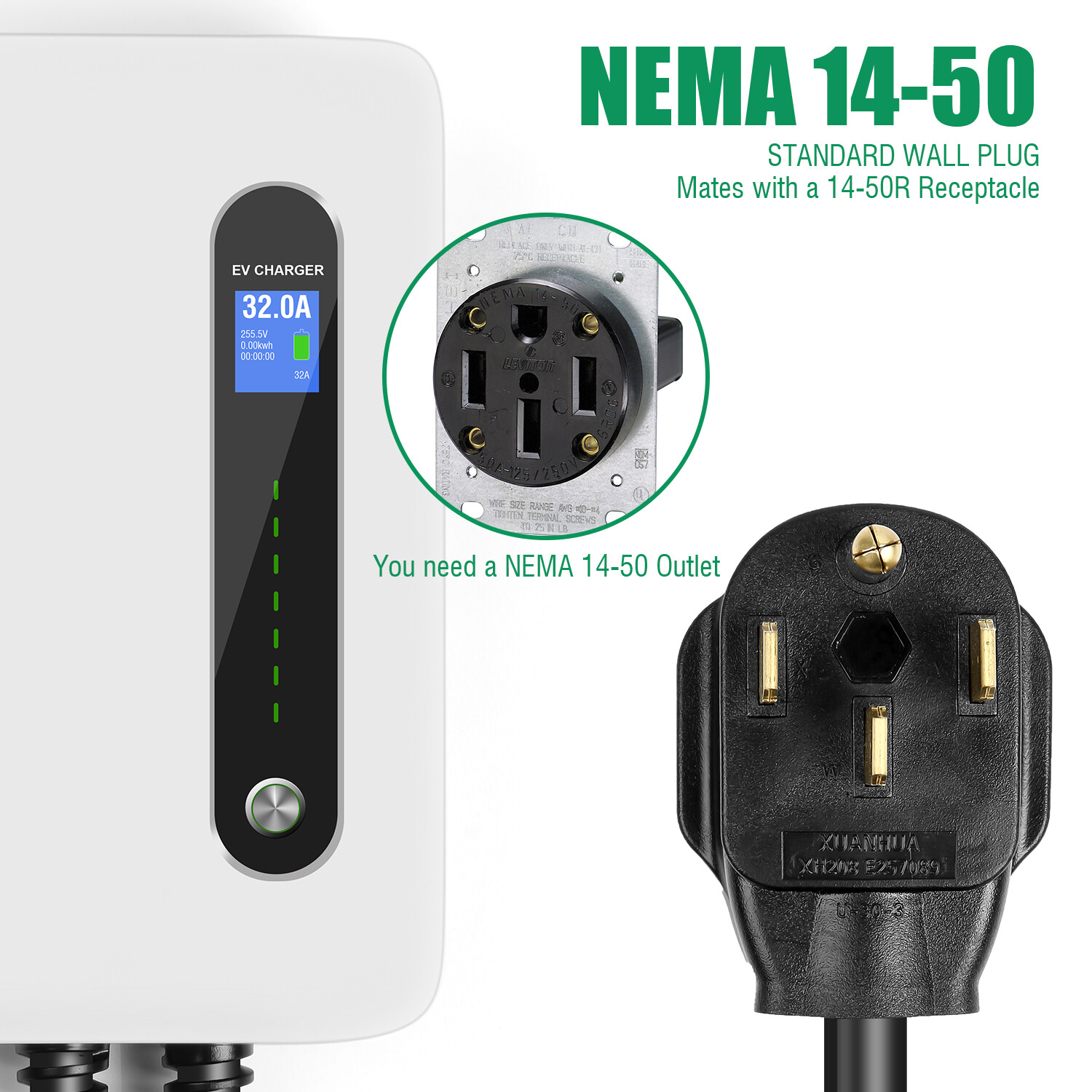 Price: 359.99 USD
Electric Vehicle Part Info:
LEFAN EV Charging Station 32A Level2 Electric VEHICLE Car Charger NEMA14-50 EVSE




Charging Station for EV

32A charger 7.68kw with NEMA14-50 Plug fast wall box 6.1m

This charging station for electric vehicles is your reliable partner for fast charging of electric vehicles. It can be installed in your garage or anywhere in your home. With built-in over current and leakage current protection, it can be installed as a stand-alone unit to ensure your safety. Plus, with 7.68 kW of power, you can charge at high speed and minimize your charging time.
Easy to use, do not need an APP to run it or home network connection.
The station uses aluminum alloy body and PC alloy plate to be stronger. Button start mode and easy installation.
LCD to display all the car's data on the charging station during charging. You can see the state of charge, including current, voltage and temperature. The screws are fit into the box so you don't have to worry about the screen falling. The 20ft cable leaves enough space between your car and the charging station.
COMPATIBILITY LIST,
The charger works with all Electric Vehicles (EV) sold in North America and Japan, including:
Aston Martin (all, including Rapide)
Audi (all, including A3, Q7, eTron)
Atieva (all)
BMW (all, including i3, i8, 330e, x3. x5, 40e, iDrive, 540e, 740e, xDrive 40e)
Brammo (all)
Cadillac (all, including ELR, CT6 Plug-In Hybrid)
Chevrolet (all, including Spark EV, Volt, Bolt EV)
Chrysler (all, including Pacifica Hybrid)
Farraday Future (all)
Fiat (all, including 500e)
Fisker (all, including Karma)
Ford (all, including Focus Electric, Fusion Energi, C-Max Energi)
Honda (all, including Accord Plug-In, Fit EV, Clarity EV, Clarity Hybrid Plug-In)
Hyundai (all, including Ioniq and Sonata Plug-In Hybrid)
Infiniti (all)
Jaguar (all, including iPace)
Karma (all, including Revero)
Kia (all, including Niro Plug-In Hybrid, Soul EV, Optima Plug-In Hybrid)
McLaren (all, including P1)
Mercedes (all, including B-Class ED, B250e, GLE350e, GLE550e, S550e)
Mini (all, including Cooper S-E Countryman ALL4 Plug-In Hybrid)
Mitsubishi (all, including iMiev, Outlander Hybrid Plug-In)
Nissan (all, including LEAF, eNV-2000)
Porsche (all, including Cayenne S-E Hybrid, Panamera S-E Hybrid, MissionE, 918 Spyder)
Smart (all, including Electric Drive, ED)
Tesla, (all, REQUIRES ADAPTER, including Model S, Model X, Model 3, Model Y, Roadster, Roadster II)
Toyota (all, including Prius Plug-In, Prius Prime, RAV4 EV)
Victory (all, including Empulse)
Volkswagen (all, including eGolf)
Volvo (all, including XC60-T8, S90-T8 XC90-T8)
Zero (all post 2017 with J1772 inlet)