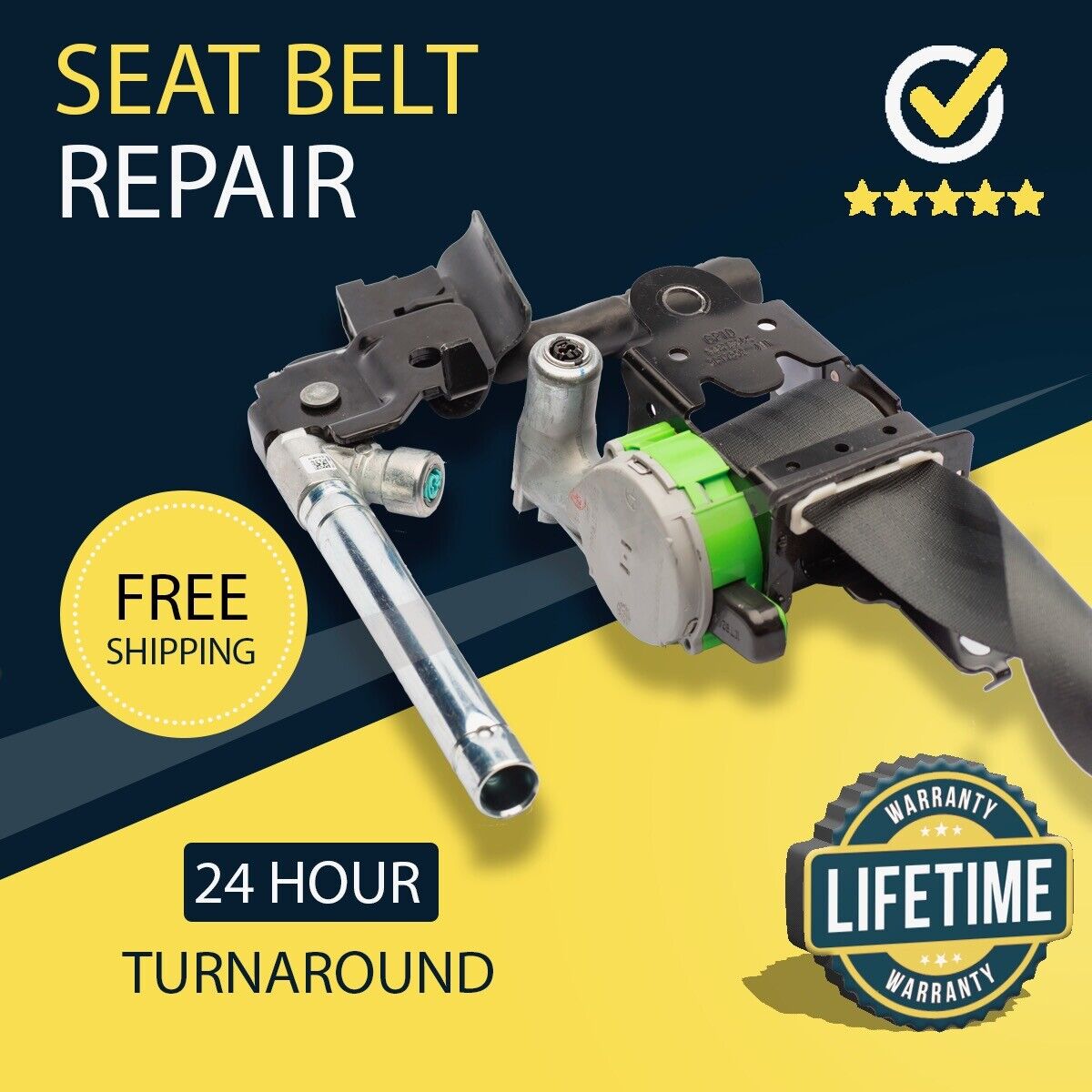 Price: 89.95 USD
Electric Vehicle Part Info:
For KIA Niro EV Seat Belt Dual-Stage Repair Service – 24HR Turnaround!
Questions? Call (8 5 5) 5 5 2 – 7 2 3 3 M-F 9-8 EST
Text (4 1 3) 4 5 4 – 5 5 7 0 or (4 1 3) 5 6 4 – 1 2 4 2
DUAL STAGE
SEAT BELT REPAIR AFTER ACCIDENT
Compatible With ALL Models 1996 and Up!
LOCKED OR BLOWN SEAT BELT?
AIRBAG LIGHT ON?
!!!After a vehicle has been in an accident, the seat belts may deploy, causing them to lock up and no longer retract.
The seat belt must then be replaced with a new unit, or properly repaired in order to safely function again.
We offer a seat belt repair service to rebuild your original unit back to working condition!!!
How it Works?
PRICE IS FOR 1 DUAL-STAGE SEAT BELT
SEAT BELT WITH 2 PLUG/2 CONNECTORS
SINGLE-STAGE vs. DUAL-STAGE vs. TRIPLE-STAGE:


Single-Stage = 1 Wire Plug Connector
Dual-Stage = 2 Wire Plug Connectors
A 2nd PRETENSIONER = TRIPLE-STAGE:

We repair seat belts after accident to factory condition!
24 HOUR TURNAROUND
100% OEM PARTS
FREE RETURN SHIPPING
mail your seat belt to:
SAFETY RESTORE
40 MAIN ST.
WESTFIELD, MA 01085
*PLEASE INCLUDE EBAY/PAYPAL RECEIPT IN BOX*
This is a service to repair your seat belt after accident. Price is for 1 seat belt. You will need to remove your seat belt out of your vehicle, and mail it in for us to repair. All seat belts are repaired within 24 hours of receiving using 100% OEM parts and are shipped back via UPS Ground. We cannot expedite shipping as seat belts are considered hazardous materials and must be shipped via Ground service only. We only repair seat belts after accident: Got a wrecked car? Salvage? Off of Copart or IAAI? Fender-bender or a small crash? We can repair your belts!   
We also repair single or triple stage,
Webbing Replacement and Airbag Module Reset!
If you need this service too, please choose from the following link(s):
– Single-Stage Seat Belt Repair
– Triple-Stage Seat Belt Repair
– Seat Belt Webbing Replacement – Any Color!
Questions? Call:
(8 5 5) 5 5 2 – 7 2 3 3
Text/SMS 24/7:
(4 1 3) 4 5 4 – 5 5 7 0
(4 1 3) 5 6 4 – 1 2 4 2
Thank You for Choosing Our Services!
⭐⭐⭐⭐⭐
5 Star Rating
 DISCLAIMER & IMPORTANT INFORMATION
WE WILL NOT REPAIR ANY SEAT BELTS THAT HAVE BEEN TAMPERED WITH OR ARE MISSING PARTS
PLEASE KEEP ALL NUTS & BOLTS from your seat belt. We will not be responsible for any lost nuts or bolts that you ship with your seat belt.
 LIABILITY & SAFETY
PROPER SERVICE AND REPAIR PROCEDURES ARE VITAL TO THE SAFE AND RELIABLE OPERATION OF ALL MOTOR VEHICLES 
AS WELL AS THE PERSONAL SAFETY OF THOSE PERFORMING THE REPAIRS/INSTALLATIONS AND ARE NOT THE RESPONSIBILITY OF SAFETY RESTORE.
STANDARD SAFETY PROCEDURES AND PRECAUTIONS (INCLUDING THE USE OF SAFETY GOGGLES AND PROPER TOOLS AND
EQUIPMENT AND EXACT COMPLIANCE WITH THE INSTRUCTIONS INCLUDED WITH PRODUCTS) ARE STRONGLY RECOMMENDED AT ALL TIMES TO LIMIT THE POSSIBILITY OF
PERSONAL INJURY OR DEATH OR IMPROPER SERVICE WHICH COULD DAMAGE THE VEHICLE OR COMPROMISE ITS SAFETY.
SAFETY RESTORE IS NOT RESPONSIBLE FOR ANY COST ASSOCIATED WITH THIRD-PARTY SERVICES, AND EXPENSES INCLUDING:
SHIPPING, INSTALLATIONS, DIAGNOSTICS, MECHANICAL WORK AND ANY SERVICE RELATED TO SRS COMPONENTS.
SAFETY RESTORE IS NOT LIABLE FOR ANY RISK-THREATENING SITUATIONS INCLUDING COST, PERSONAL INJURY, DEATH AND/OR ANYTHING ASSOCIATED WITHIN.
IF YOU ARE NOT SURE OF SOMETHING PLEASE CALL (8 5 5) 5 5 2 – 7 2 3 3
 HAZ-MAT DISCLOSURE
SEAT BELTS CONTAIN EXPLOSIVES THAT ARE CONSIDERED HAZARDOUS AND MUST BE SHIPPED IN ACCORDANCE TO THE FEDERAL REGULATIONS.
HAZARDOUS MATERIALS CANNOT BE SHIPPED OVERNIGHT. WE COMPLY WITH ALL REGULATIONS
SAFETY RESTORE IS HAZMAT CERTIFIED
 RETURN POLICY
Return shipping paid by: Buyer

Item must be returned within: 14 Days

Refund will be given as: Money Back or Rework

Return Standards: Our policies apply to all returns. You must contact us before sending your seat belt(s) back for refund or rework. Some problems may be easily fixed by communicating with us!
 WARRANTY
Warranty Duration: Lifetime

Warranty Type: Replacement Warranty

Please contact us for details about the warranty.
 REPAIR CERTIFICATE OF AUTHENTICITY & LIFETIME WARRANTY
All of the seat belts pass Quality & Safety Inspections prior to being shipped back to you. In addition, each seat belt is recorded in the Safety Restore's national database for tracking and history.