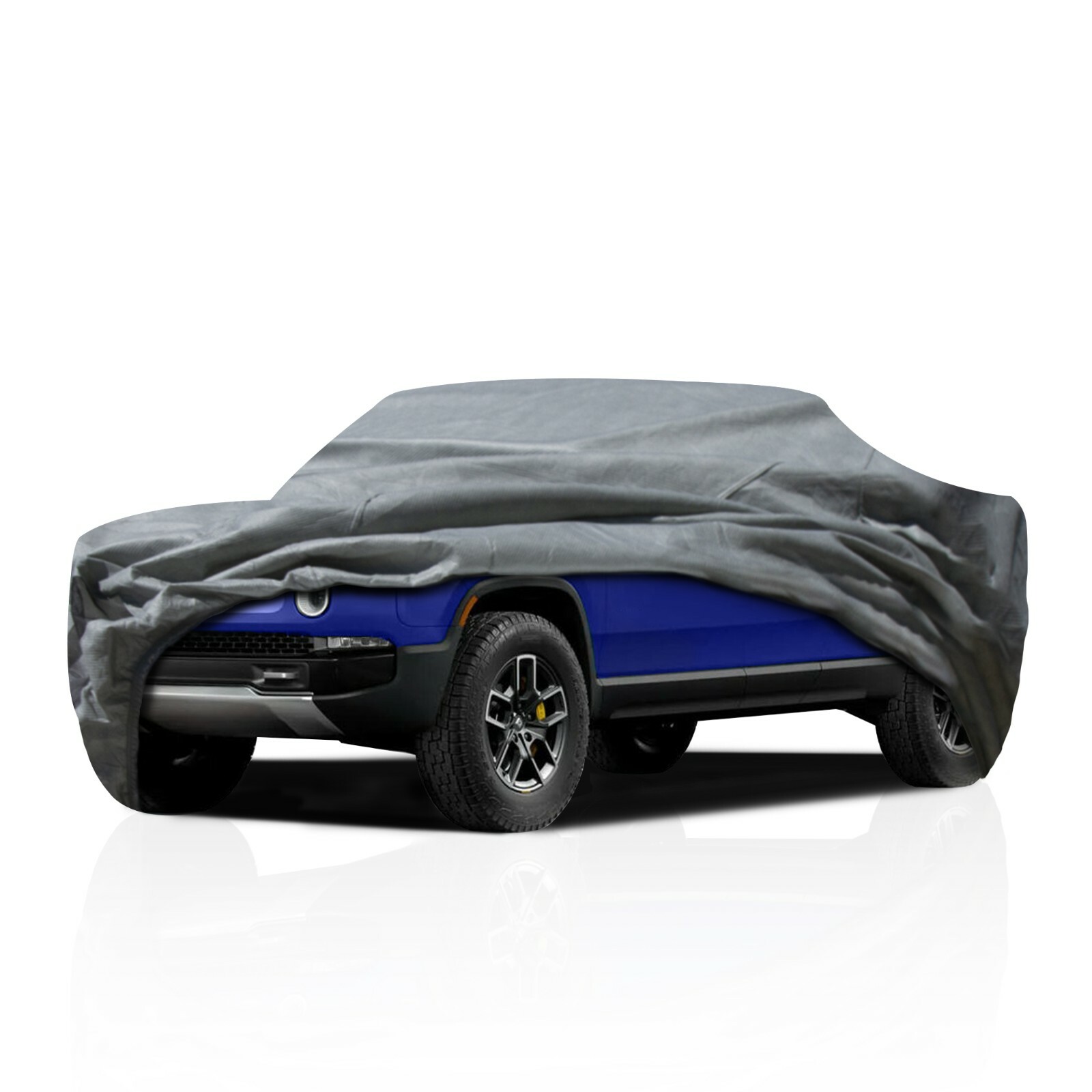 Price: 135.99 USD
Electric Vehicle Part Info:
[CCT] 5 Layer Semi-Custom Fit Full Pickup Truck Cover for Rivian R1T 2022
Why are there no side mirror pockets? 
Our car covers will accommodate your mirrors without pocketing them. We've engineered them out of the design because mirror pockets are unnecessary and are usually the first part of a car cover to deteriorate or rip. This ensures that you will get maximum durability from your car cover!
What about my antenna?
The cover does not come with holes in it for your antenna by default because most customers prefer to not have any holes. If your antenna cannot be removed or retracted when using the cover, we include a FREE antenna patch kit with each car cover that will create a reinforced hole where the antenna can easily slip through.
Will this fit my vehicle?
Yes! This cover is sized for your vehicle by the dimensions: length, width, and height (called semi-custom). Combine the perfect size with the elastic front and rear hems and you are getting a cover that is going to fit your vehicle extremely well. We're so confident that you'll love how our cover fits your vehicle that we will pay return shipping if you receive an incorrect cover!
How Many Layers Is The Cover? 
Quality of fabric is more important than quantity of layers. Our most durable cover, is not built upon a layering principle. It is constructed of a high quality woven polypropylene fabric with a reflective urethane coating. Lined with an ultra soft fleece material, your vehicle's finish will be perfectly preserved and protected.
I have modifications to my vehicle, what cover should I order?
On your checkout page has a comment or note section. Simply order the cover for your vehicle and make as many detailed notes as possible about your vehicle modification. For example if you have a large spoiler, mention you have a 6″ spoiler. This will allow our warehouse team to grab the correct cover.
ONLY 5 Layer cover comes with a FREE  cable & lock / Inner Soft Fleece Lining
4 Layer & 5 Layer Package includes FREE  storage bag AND an antenna patch.