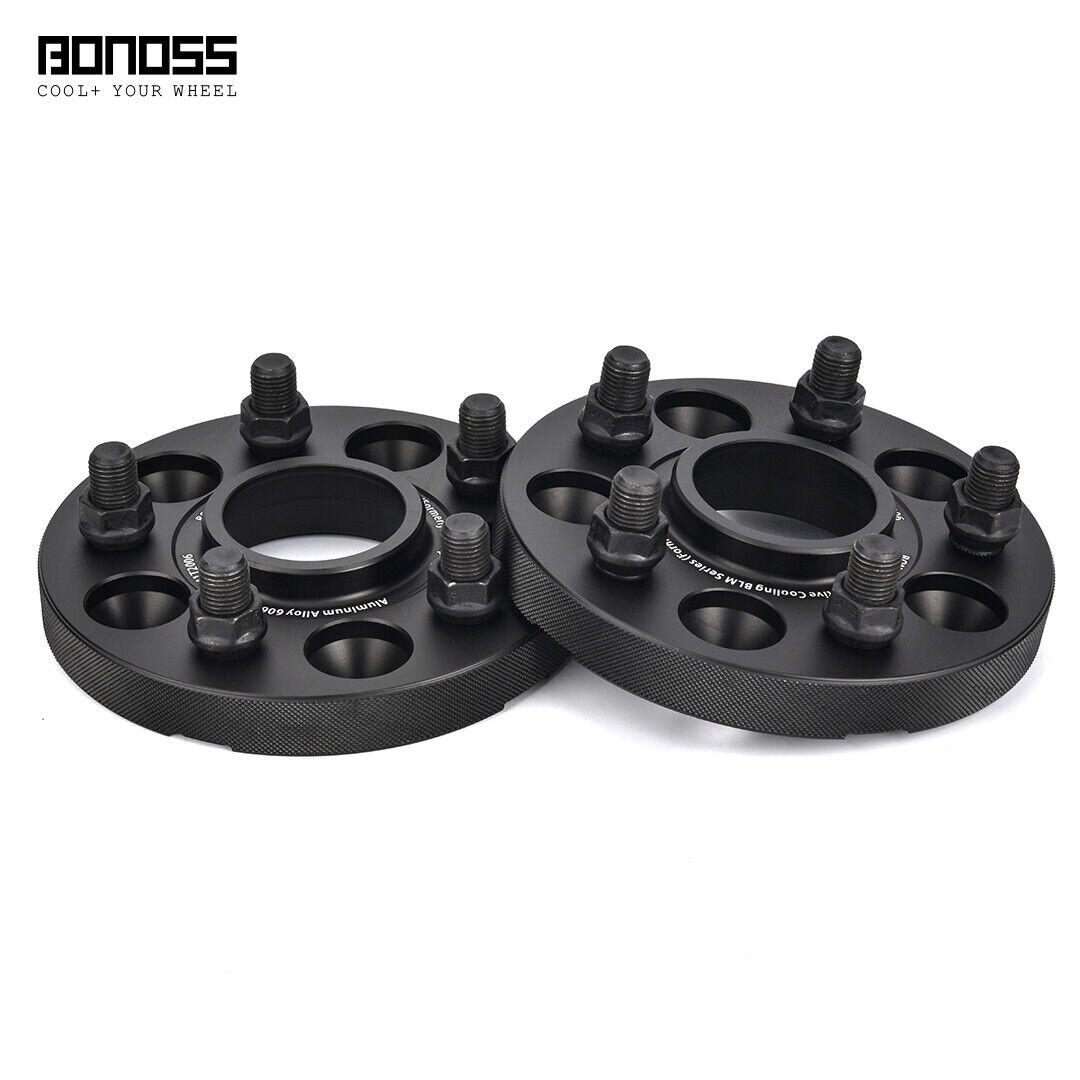 Price: 112.49 USD
Tesla Part Info:
BONOSS 2pcs | 20mm | Hubcentric Wheel Spacers for Tesla Model 3 2018+




Items Descriptions
Important Notes:
Please leave us a note with your car model and year information when you bought it ,so that we can send you the item at once!!!Thx!!
1. The price is for a Pair (2 pcs) Tesla Model 3 wheel spacer, including the required applications(Bolts/Lug Nuts, etc). For a better shopping experience, it is important to measure the gap and confirm thickness before purchasing. Our friendly customer service will help you to solve any question.
2. This part is compatible with the 2018+ Tesla Model 3 RWD AWD Standard Range(SR)/Standard Range Plus(SR+)/Mid Range(MR)/Long Range(LR) and Performance version. To confirm that this part fits your vehicle, please attached your car, make, and year.
3. If the thickness of the wheel spacer is smaller than the length of the original studs, the rims used must allow for small hockets in the mounting surface of the rim. If using rims without enough hockets, the stock studs should be shortened so that they do not extend beyond the thickness of the spacer.
Wheel Spacer Specification:
| | |
| --- | --- |
| Wheel Bolt Pattern(PCD) | 5×114.3/5×4.5" |
| Hub Bore (Center Bore) | 64.1 |
| Thread Pitch | M14x1.5 |
| Thickness | 20mm |
| Fit for | Tesla with 5×114.3 pattern |
| Materials | Forged Aluminum Alloy 60601 T6 |
Features:
Global Pioneer Active Cooling Technique, Safer




Forged AL6061-T6 with Tensile Strength ≥ 310 Mpa, Safer




ISO Grade 10 Nuts with BONOSS Engraved, Strength ≥ 1110 Mpa, Safer




ISO Grade 12.9 Studs with BONOSS Engraved, Strength ≥ 1220 Mpa, Safer




Customized Only in 1-3 Days, OEM/ODM Available, More Professional




Over 66 SGS TÜV Test Reports Certificated, More Professional




Worry-free 10 Years Warranty, Friendly Customer Service
FAQ&TIPS

1. What's the data of my Tesla Model 3 wheel spacers?
The data of Tesla Model 3 wheel spacers is Bolt Pattern (PCD):5×114.3, Center Bore (CB):64.1, Thread: M14x1.5. As long as the vehicles share the same bolt pattern, center bore diameter, and thread size as Tesla Model 3 SR/Model 3 SR+/Model 3 MR/Model 3 LR/Performance/Dual-motor, These items can also be used as Tesla Model Y wheel spacers
2. Are these wheel spacers applicable to Tesla Model 3 Performance version?
Yes, these wheel spacers also fit the Tesla Model 3 Performance version. According to current experience, the original Tesla Model 3 Performance hub axle head has an extra center lip, please feel free to buy it, BONOSS has designed all the Tesla Model 3(including Model 3 SR/Model 3 SR+/Model 3 MR/Model 3 LR) wheel spacers to accommodate this extra lip. In addition, the performance version has a small protruding screw on the original hub axle rotor. If you are installing 15mm Tesla Model 3 Performance wheel spacer, you need to remove this screw. The screw is only there to hold the rotor on during assembly. After the brake calipers are installed the screw has no function. If your car is a 2020+ Model 3 performance with factory wheels, you may need to shorten the factory studs a bit when you install the 15mm wheel spacers, because the original wheel back doesn't have deep enough cavities to accommodate the protruding factory studs. Please don't hesitate to contact us for more details if needed.
3. Why should I choose BONOSS Tesla Model 3 wheel spacers?
Since 2007, BONOSS has been committed to producing high-quality, high-safety, and high-stability automotive wheel accessories (wheel spacers, wheel bolts, wheel nuts, etc.). We pay attention to the safety and quality of Tesla Model 3 wheel spacers and other accessories. BONOSS has over 10 years of professional design and manufacturing experience, trusted by more OEM brands and professionals. We have sufficient inventory to ensure faster delivery, and customize Tesla Model 3 wheel spacers only in 3 days. Professional pre-sales consultation will solve your confusion, please feel free to contact us, after-sales warranty for 10 years will be more rest assured. BONOSS wheel spacers provide higher performance, more additional functions, fast customized service, and friendly service while maintaining a more competitive price, which is your best choice.
4. Is it good to install BONOSS Tesla model 3 wheel spacers?
By installing Tesla Model 3 wheel spacers, you will get a wider wheel track and have a smaller turning roll, which brings you a stable driving experience, also improving better turning performance, and safer handling. Meanwhile, install the Tesla Model 3 wheel spacers can make your wheels flush with the fender, which is more aggressive and powerful in appearance. For those Model 3 owners who change the wheels or brakes, there may be a problem of incorrect offset or brakes scratching the wheels, which may cause dangerous driving. Installing Tesla Model 3 wheel spacers can solve these problems well. In addition, install BONOSS world's first patented "active cooling" wheel spacers can improve braking efficiency, reduce thermal exhaustion of the braking system, and keep the brakes at normal temperature to ensure driving safety.
5. How does the "active cooling" function works on my Tesla Model 3 wheel spacers?
As a professional wheel spacers manufacturer, BONOSS has created the world's first "active cooling" technology based on years of experience, breaking the long-term single function of the wheel spacers. Through the rotation of the wheel spacers, the external cold airflow takes away the internal heat through the active cooling grooves, so as to achieve the purpose of active cooling, improve the braking efficiency and reduce the risk of driving safety. Installing BONOSS forged active cooling wheel spacers on Tesla Model3 can improve braking efficiency, maintain the brakes at normal temperature, and ensure your driving safety. The production cost of BONOSS "active cooling" technology is almost the same as that of traditionally designed wheel spacers. You don't need to pay extra, that's why we say that BONOSS forged active cooling wheel spacers are particularly price-friendly. BONOSS Tesla Model 3 wheel spacers provide more additional functions, higher safety, higher performance, more professional design, and better installation experience.
6. Are Tesla Model 3 wheel spacers safe?
Yes. wheel spacers are just the automobile accessories installed between the assembly hub and wheel, the wheel lugs apply a clamping force to secure the spacer and wheel to the vehicle hub. Just like wheels, tires, and brake systems, as long as you use high-quality Tesla Model 3 wheel spacers and install them properly, they are safe. BONOSS is always concerned about safety. Take the 5×114.3 wheel spacers as an example, we use forged AL6061-T6 material (tensile strength ≥310Mpa), modern CNC machining by 0.02mm tolerance, the multi-stage hub centric design fits the wheel hub better. Meanwhile, the matching wheel studs adhere to ISO standard grade 12.9, and ISO standard grade 10 lug nuts, all of our products have got more than 50 SGS TUV authoritative test reports. Compared with those cheap casting wheel spacers, BONOSS forged active cooling wheel spacers are safer, higher performance, and more professional in design. We believe more professional production offers more value for customers.
7. Why do I need Tesla Model 3 hub centric wheel spacers? What's the difference between BONOSS multi-stage hub centric wheel spacers and others hub centric?
Tesla Model 3 hub centric wheel spacers offer a better system of support and stability. They are designed to make a snug connection between the wheel and vehicle hub, reducing the high-speed vibration and ensuring safer driving. Compared with an ordinary hub centric. BONOSS uses the multi-stage hub centric design, which means that multi-stage hub-centric can make the spacers more closely fitted to the wheel hub, greatly reduce the vibration of high-speed caused by the inaccurate hub centric. Besides, they can also be used to change the center diameter of your car, making it possible to install wheels with different center diameters to your vehicle properly, transforming lug centric wheels into hub centric wheels. For details, please check
8. What are BONOSS Tesla Model 3 wheel spacers made of?
BONOSS manufacturers produce Tesla Model 3 wheel spacers are made of high-grade forged 6061-T6 aluminum alloy, which features many desirable properties such as high strength, wear-resistance, excellent toughness, impact resistance, and high-temperature resistance. This metal performs good mechanical properties: Tensile Strength≥310Mpa, Yield Strength≥275Mpa, and Failure Elongation≈10%, compared with ordinary 6061 materials, the tensile strength is about three times higher, and the yield strength is about five times higher. Precision CNC machining with 0.02mm to ensure your safety. BONOSS insists on producing professional forged wheel spacers, which are safer, more professional, and more reliable than cheap casting competitors.
9. What's the material of the matching studs and nuts on Tesla Model 3 wheel spacers? What's the special meaning of BONOSS engraved on the wheel studs?
The matching wheel studs on the Tesla Model 3 wheel spacers are made of forged SCM440 alloy steel, which features good ductility and high-temperature stress resistance, structural stability, with fewer harmful elements and fewer surface defects. They have achieved ISO standard grade 12.9, tensile strength≥1,220Mpa, ultimate tensile load≥152,000N, hardness (HV)≥395, NSS≥500H… The matching lug nuts applied 40Cr material, which adheres to the ISO standard grade 10, proof load≥1110Mpa, hardness (HV)≥349… They are strong enough to use in daily driving, even racing, off-road, and other scenes. Each of the matching wheel studs or wheel nuts has a unique BONOSS engraved, which proves that the source of the products can be traced. Compared with others, BONOSS has a professional factory to ensure the quality of each part on Tesla Model 3 wheel spacers, they can easily bear hundreds of intense impacts. Safer and better than those cheap casting competitors.
10. Can I customize Tesla Model 3 wheel spacers only in 3 days?
Of course. BONOSS owns an independent OEM factory, so that custom wheel spacers can be completed only in 1-3 days. OEM/ODM is available. If you're looking for an unusual thickness or bolt pattern conversion to fit custom wheels that won't work with standard wheel spacers, look no further than BONOSS custom-made wheel spacers for your Tesla Model 3. BONOSS offers non-normal thickness customized service, a minimum of 0.1″ (3mm) thick, a maximum of 6.4" (160mm) thick are available. There are a large amount options with our customized PCD conversion wheel adapters, etc. 5×114.3 to 5×112 adapters, 5×100 to 5×114.3 adapters, 6 lug to 5 lug adapters, 5×120 to 5×114.3 adapters, and CB conversion, such as 66.5mm to 72.5mm. And thread sizes, thicknesses, and bolt patterns are customized to your exact request on wheel adapters
11. What are the benefits of the knurling design on my Tesla Model 3 wheel spacers?
The knurling design can enhance the aesthetics of the Tesla Model 3 wheel spacers by introducing an attractive pattern to the side surface. In addition to aesthetics, there are practical features. Knurling patterns can enlarge the side area so that it can contact more air, boost the heat dissipation effect, and reduce the internal stress caused by machining. That means improving the performance, strength, and durability of the Tesla Model 3 wheel spacers. BONOSS aims to provide wheel spacers with more additional functions, safer, higher performance, more professional design, and better installing experience, that is why we insist on independent manufacturing and continuous optimization of the design.

12. How do Tesla Model 3 wheel spacers affect handling?

Wheel spacers are installed between the hub and the wheel by pushing your wheels further away from the chassis, widening the track. A wider track means better traction, allows you more stable turning. And most track racing cars would make use of every millimeter of the wheel-wells space available in their design for the highest performance and the best exteriors. With Tesla Model 3 wheel spacers on, you can fill the gap in your fenders and get a more aggressive and powerful look. Meanwhile, 0.02mm tolerance, more perfect fit to the wheel hub, which means reducing high-speed vibration, offering a smoother driving experience.
13. What do wheel spacers do for wide-body kits/aero kits?
Generally, widebody builds include the upgrades of larger-size wheels and bigger brake kits. Wheel spacers allow you to add larger wheels. You can also add larger brake kits, which is a great safety upgrade especially if you plan to take your widebody car onto a track. Installing wheel spacers on Tesla Model 3 is one of the easiest and most cost-effective options to get low and wide as well as to get flush the fender flares. Properly filled wheel arches can really make your widebody builds look wonderful. These items function as Novitec Carbon Fiber wheel spacers, VR Carbon Fiber wheel spacers, Vorsteiner Volta wheel spacers, etc. And for safety and quality, purchasing from a professional manufacturer is trustable. BONOSS offers 15mm-110mm thickness wheel spacers to meet your needs. BONOSS insists on manufacturing safer and more professional wheel spacers, which is a good choice for your excellent widebody kits.
14.How to install BONOSS Tesla Model 3 wheel spacers?
The wheel spacer installation is an easy job for you. Hopefully, the instructions below can help those of you keen to install wheel spacers yourself. If you don't know how to install it ,please contact us.
1. Which express will deliver BONOSS Wheel Spacers? How much does the shipping cost? Does it include import tax?
After placing the order, BONOSS's shipping department will give priority to choose FEDEX, DHL, TNT, UPS, EMS, or other express delivery for you,
and then deliver your spacers as soon as possible. The shipping cost calculation is based on the shipping weight and volume and doesn't including import tax.
Also, the special service fees in remote areas are not included but will be charged in rare cases. If this happens, we will contact you in advance.
2. How soon will my wheel spacers ship?
Generally, existing Wheel spacers are ship within 24-72 hours, and the customized spacers are ship in about 3 days (some special custom orders or models may take longer).
Once your spacers are shipped, we will provide you the tracking number in eBay. Please pay attention that if you have not received the tracking number or have other questions,
please contact our friendly customer service staff.
3. How soon can my spacers arrive?
The general time is 3-7days, but may be affected by aviation, weather, politics, customs clearance, or other factors. But don't worry,
because it usually doesn't take long, and we will follow up the whole process so that your wheel spacers can arrive faster.
Thank you for choosing BONOSS Wheel Spacers. In order to provide you with a more convenient, fast, and safe payment method,
BONOSS selects most of the popular international trading methods. If none of the payments below is suitable for you, please contact us for the solution.
So far, BONOSS fully supports the following payments:
Recommend PayPal.
Payoneer
Notice: Please ensure that the Billing details and Shipping address are completely correct, and welcome to Contact Us if you have any questions.
We sincerely hope that our products bring a good experience and happiness to your life.
The return will bring actual interest losses to each other, we do not recommend this, but we fully respect your right to return.
We agree to a 100% refund for the product when the following conditions are met, but you need to bear the resulting freight and taxes.
Within 30 calendar days.
The product has not been used, the package is complete, and the product will not affect the second use.
Customized products do not support returns.
If you have consulted our professional services before purchasing, and the product is not applicable due to our reasons, we will take the responsibility of returning the product(s)
Thank you for choosing BONOSS Wheel Spacers. BONOSS has been designing and manufacturing wheel spacers since 2007.
Professional production experience and excellent product quality make us confident to provide a Super Long Warranty Service up to 10 years that far exceeds the period of most brands.
BONOSS promises that if there is any quality problem with the product within 10 years, we will provide warranty service.
BONOSS is a high-end brand established by Guangzhou Zhongpeng Auto Parts Co., Limited, based on the original BLOXSPORT brand with higher performance as the standard.

Founded in 2007, Guangzhou Zhongpeng Auto Parts Co., Limited. is a company specializing in R&D, production and sales of forged wheel hub Spacer, bolts and nuts.

Since the company was founded, we insist in the principle of safety first and strictly self-discipline. We believed that every wheel spacer, bolt or nut carries the integrity and happiness of a family.
Therefore, we insist on strictly complying with ISO high standards from raw material selection to finished product testing,
and introduce independent testing by third-party authoritative organizations, such as SGS and TUV to ensure that each product can carry a safe mission.