Electric Vehicle Part Info:
Autel MaxiSys Ultra Car Diagnostic Scan Tool J2534 Pro-gramming MaxiFlash VCMI




Autel MaxiSys Ultra MS919 Car Diagnostic Tool J2534 Prog//ramming MaxiFlash VCMI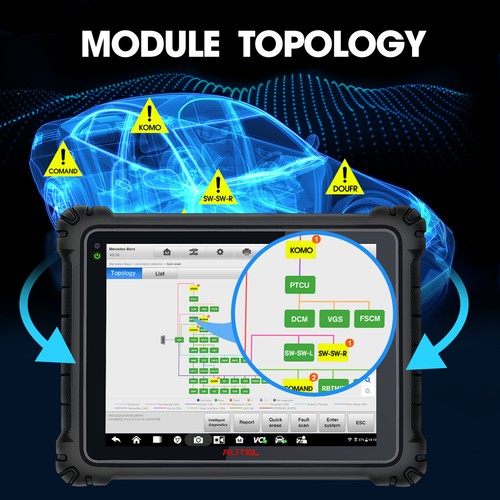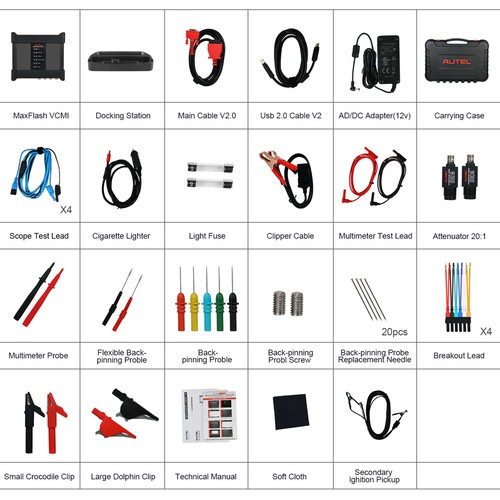 Autel MaxiSys Ultra Brief Introductions:
---
👍【2022 AUTEL ULTRA: TOP INTELLIGENT DIAGNOSTIC】Autel MaxiSys Ultra diagnostic scan tool is the first intelligent one in industry. It takes smart diagnosis as the core, integrated OE Technical Service Bulletin, step-by-step repair tips, DTC Analysis, Component Measurement, Relevant Cases to improve diagnosis and repair efficiency to the greatest extent. Enhanced with topology mapping, technicians repair efficiency is improved at least by 90%, it's the best choice for large car workshops.
👍【

5-IN-1 VCMI, VALUED $2000+ HIGH-END FUNCTION

】Different from traditional scan tools, the intelligent diagnostic scan tool Autel Ultra is equipped with an advanced 5-in-1 VCMI combining VCI, oscilloscope, waveform generator, multimeter, and OBD2 CAN BUS Check, it can perform super precise and most overall diagnostic and services on 99% vehicles on the market, Autel Ultra gets you everything in need, it's the top 1 solution provider for large car repair business.
👍【

Car Computer Pro-gramMING & Car Computer Co-ding

】Professional automotive scan tool Autel MaxiSys Ultra enables enhanced Car Computer Pro-gramming on specific BMW and Benz. It can finish Pro-gram/ rewrite/ code/ match new Car Computer after new module replacement. Besides the Car Computer Pro-gramming, it also allows for advanced Car Computer Co-ding on most of regular cars to unfold hidden features and activate high-end functions to improve vehicle performance. Car Computer Pro-gramming and Co-ding is not universal, please send VIN to check before order.
👍【

BI-DIRECTIONAL + 40 SERVICES

】This TOP car diagnostic scanner Autel Maxisys Ultra supports the most comprehensive services on the widest vehicles. Services include Oil Reset, EPB Reset, SAS Calibration, DPF Regen, Battery Reset, Throttle Reset, ABS Bleed, Injector Co-ding, Power Balance, Key Co-ding, Suspension Calibration, EGR, VGT Turbo Calibration, Transmission, Headlamps, Window Door Roof etc. Together with bi-directional control, Autel Ultra is the wisest investment for your car workshop.
👍【

UNMATCHED COVERAGE, WORKS WITH OE TOOLS

】Compared with other competitors on the market, Top Intelligent Scanner Autel Ultra not only supports J2534 diagnostic standard, but also exclusively supports DPDU/ RP1210 and CAN FD/ DoIP protocols, which makes it compatible with oe factory tools to peform further services and Pro-grammings. Eg: it supports OE diagnostic tools for Land Rover, Jaguar, Volvo, Toyota, GM, Honda, Nissan, BMW, BENZ, VW, Hyundai, Kia, Mazda, Mitsubishi, Chrysler, etc.
👍【

TOP HARDWARE, UPGRADED OF MAXISYS MS919/ MS909

】Android 7.0 OS, Sam-sung octa-core processor, 4GB RAM & 256GB memory, 12.9'' 2732×2048 TFT-LCD touch screen, 5M front & 16M rear cameras, 18000mAh battery, Autel Scan Tool Maxisys Ultra backed by the solid hardware provides you a revolutionary apt and efficient diagnostic experience. And as the top rank product, Maxisys Ultra enjoys the first to update whenever there are any new functions revealed, win over your competitors from start line.
📢【

INSTANT PRINT VIA WIFI & CLOUD REPORT MANAGEMENT

】 Autel Maxisys Ultra with newest software updates supports to print out reports directly, no need to work with the PC, click the "Print" and you'll get the report right away. And you can also upload diagnostic reports to Autel Cloud and share reports with customers through QR Code/ email/ text message easily, customers can view the reports anytime. Diagnostic job can't be easier than ever!
👍【

1 YEAR FREE UPDATES, 1 YEAR QUALITY WARRANTY, US MARKET SOLUTION

】

Autel scanner Maxisys Ultra has NO IP restriction,

but it's English only. Your purchase with us is risk-free, for it is backed by NEW REPLACEMENT or FULL REFUND policy within 30 Days of purchase, and 1 year warranty. Ultra the smart scanner enjoyts 1 year FREE software updates All the mentioned functions are not universally compatible. Any question before or after purchase, please contact us.
Autel Ultra- 2022 Most Intelligent, Advanced 5-in-1 VCMI with Oscilloscope, TSB, Repair Tips/Video Library, Repair Assist, Topology
---
The history of Autel diagnostics is a foundation of success built on ingenuity and a revolution of design and functionality.
Autel 2022 Newest Top Scanner MaxiSys Ultra is the future intelligent diagnostic scan tool, a larger tablet for multi-window operation, which can Maximize your intelligence with powerful hardware.
Faster analysis and expanded data storage meet busy repair demands with substantial battery capacity, HD dual cameras capture every detail.
WiFi connection to the VCMI device and a wireless network simultaneously for faster diagnostics. The MaxiFlash VCMI is more powerful than ever, muti-channel simultaneous analysis test components and confirm repairs new protocols to support the vehicles of today and tomorrow expanded passenger and increasing commercial vehicle coverage. Complete diagnostic detection system analysis and repair confirmation in one to five and one combination (5-IN-1) vehicle communication and measurement interface. Easier oscillioscope operation with built-in preset guided test for operation and analysis, faster system communication. Muti-function detection Using OBD2 CAN BUS CHECK. Ultra smarter than ever, faster VIN Scan recognition for vehicle identification new topology mapping of CAN BUS tree with color coded module status for faster full system diagnostic results, Ultra intelligent diagnostics provides direct access to OE-related TSB recalls and service campaigns, REPAIR ASSIST diagnostics guidance is designed to support from DTC diagnostic analysis, to repair recommendation options easily and efficiently. Ultra MaxiFIX, more efficiently than ever, search multiple options of DTC based repair advice by relevant cases or repair tips video and documentary libraries, providing direct access to to-ranked repair recommendation from industry pros. Everything you have been waiting for -This is Autel MaxiSys Ultra.
Updates in 2022 Jan:
NOTE: Autel MaxiSys Ultra has no IP restriction but it comes with English menu ONLY.
Best of the Best: Autel MaxiSys Ultra with Unprecedented Intelligent Diagnostics
---
This intelligent auto diagnostic scanner Autel MaxiSys Ultra is Autel's most ambitious product to date. It takes fault guidance as the core, integrates TSB, fault code details, and improve technicians' maintenance level and efficiency.
OE Technical Service Bulletin (TSB):Official fault statement, minimize tedious maintenance process.
Trouble Code Details:Analyze the definition of the trouble code, its cause and repair method.
Fault Guidance: Step-by-step guidance to efficiently solve multiple faults.
Maintenance Process: Graphic or video explanation of maintenance ideas and operation steps.
Component Measurement: ln-depth judgment of components combined with oscilloscopes, etc.
Related Maintenance Cases: Real maintenance cases, guide maintenance solutions.
NOTE: The functions are not universally compatible for all the cars.
REPAIR GUIDED ASSISTANCE: supports: BMW, GM, JLR, Ford, Chrysler, Porsche, VW, Audi.
USEFUL TSB SEARCH: Only supports: FORD, GM, FCA, TOYOTA/LEXUS, NISSAN, HONDA, BMW, BENZ, AUDI, VW, HYUNDAI/KIA, JLR.
Autel MaxiSys Ultra does NOT perform TPMS services.
2022 Newest Updates:
INSTANT PRINT VIA WIFI: Autel MaxiSys Ultra with newest software updates supports to print out reports directly, no need to work with the PC, click the "Print" and you'll get the report right away.
CLOUD REPORT MANAGEMENT: You can upload diagnostic reports to Autel Cloud and share reports with customers through QR Code/ email/ text message easily, customers can view the reports anytime.
Advanced 5-IN-1 VCMI ( VCI Connection + Oscilliscope + Waveform Gerneator + Multimeter + CAN BUS CHECK )
---
The VCMI of advanced car scan tool Autel MaxiSys Ultra is integrated with VCI functions + Oscilloscope + Waveform Generator + Multimeter + CAN BUS CHECK, which making the tool has never been so powerful.
1. VCI Connection (Wi-Fi / BT / USB):
Support Dual Wireless Mode, the new host and communication box are connected through Wi-Fi, Wi-Fi communication transmission speed is fastermore stablestrong anti-interference ability, the actual test wireless distance is more than 50m, and the diagnosis speed is more than 30% faster.
VCMI integrated oscilloscope, through 4 major technologies: Large Bandwidth, High Sampling Rate, Deep Storage, Massive Preset Cases, supports 2 major features: Zoom & Playback, Advanced Triggering, improving the efficiency of solving complex faults.
Ultra-Precision: 20MHz large bandwidth, up to 80MS/s sampling rate, accurate waveform acquisition, covering a wide range of vehicles
More Complete: 32M memory, can capture complex signals, amplify and playback waveforms; support advanced edge triggering and pulse triggers, do not miss any key events.
Easy to Use: Built-in massive preset case and waveform library, supplemented by instant help system
PS: Oscilloscope instant help system: After selecting any function on the oscilloscope screen, click the "bulb" icon to instantly locate the corresponding function in the manual.
Supports multiple signal modes, including DC voltage, square wave, square wave (X+Y), triangle wave, actuator drive and arbitrary waveform. Simulate the signals of various sensors and Car Computer modules, you can intuitively judge whether it is a hardware problem without changing parts.
The Multimeter is mainly used to measure voltage, current, resistance, frequency, diode, duty cycle, pulse width and connectivity.
By detecting the signal of the OBD interface, you can quickly determine whether the communication status is normal. If the signal is normal, the indicator light will flash; if there is no signal, make sure the pins are set correctly.
All Systems Map in one Module Topology
---
System Topology: Automotive diagnostic scan tool Autel MSUltra displays the entire system through a Topology Map to have a full map of the all the modules, normal or abnormal. And number of the DTCs are marked out for easy to location of the faults. And just one click, you can access to the fault module directly and the DTC definition and suggested reasons are listed, improving your working efficiency highest than ever.
NOTE: Topology is not universal to all the vehicles, please check VIN for compatibility before you order!
J2534 Car Computer Pro-gramming
---
 With the increasing complexity of automotive electronic control systems, Car Computer Pro-gramming is a must-learn skill for almost every pro mechanic. To help you cope with more models that support different interface standards, we have pre-emptively followed in the footsteps of the times and have been compatible with D-PDU, J2534 (SAE J2534-1 & J2534-2), and RP1210.
The VCMI module also supports various common vehicle buses protocols, for instance: KPW, CAN, CAN-FD, DoIP, etc. Speaking of the CAN-FD, its transmission speed is 14 times faster than CAN. (Note: The CAN-FD only support post-2019 GM models)
Here is a list for you to check out exactly which models are supported:
Ford, Chrysler (Post-2009 Models), Toyota, Nissan (Post-1999 Models), Honda, Jaguar, Land Rover (Post-2005), BMW, Benz, Volvo (Post-2004), VW, Subaru (Post- 2003), etc.
Display Topology
---
The newly added display topology makes the information display more intuitive and systematic. You can zoom in and out to view the communication structure between modules. The Ultra can directly display fault codes and access the system to perform functions.
The following are Display Topology supported models: BMW, Ford, Audi, Chrysler, Nissan, Honda, Toyota, Lexus, Land Rover, Jaguar, Benz, VW, etc.
 36+ Maintenance Functions Greatly Improve Work Efficiency
---
26 Commonly Used Reset Functions for Fast Maintenance or Repairs:
Oil Reset, EPB, BMS, ABS Bleed, TPMS, Airbag Reset, DPF Reg., IMMO Service, Injector Co-ding, SAS Calibration, Suspension Calibration, Throttle Adaption, ABS/SRS, Gear Learning, Sunroof Initialization, Seats Calibration, Language Change, Headlight Matching, A/F Setting, WIN DR Roof, Odometer, CHG Tire Size, Cylinder, Turbocharging, Limit, Trans Adaption.
10+ Advanced Functions for Different Vehicle Models:
Neutral Gear Position Learning, Torque Sensor Adjustment, Signal Check, Yaw Rate Sensor (YRS) Learn, Clutch Pedal Position Learn, Cylinder Power Balance, Component Matching, Stop/Start Reset, Transport Mode, Auto-Door Lock, etc.
Oil Reset: to reset the oil service lamp for the engine oil life system; EPB Reset, to reset the brake pad after replacing the brake pad.
ABS Bleeding: to perform various bi-directional tests of Anti-lock Braking System;
Injector Co-ding: to write the new code to the Car Computer after replacement of injector.
Suspension Calibration: to adjust the height of the body; SAS Calibration, to calibrate the steering angle after replacement.
Anti-theft Matching: to disable the lost key and add the new key's data for sCar Computerrity.
BMS Reset: to perform a resetting operation on the monitoring unit of the vehicle battery.
Tire Pressure Reset: to look up the tire sensor IDs, reset tire pressure, and turn off the tire pressure MI-L.
DPF Reset: to retrieve/erase DPF-related codes, and reset the DPF light.
Throttle Matching: to make initial settings to throttle actuators.
Gearbox Matching: to achieve a more comfortable and ideal shift quality.
WIN DR ROOF, Seats, Odometer, Lang Change, Headlamp, CHG Tire Size, TEC Learn, Cylinder, Trans Adaption, Airbag Reset, etc., and are still growing.
10+ Highly Advanced Features

---
Bi-Directional Control (Active Test)
Accurately figure out whether a specific system, component, or a subsystem in vehicles goes well and locate the problem by interactively operating and testing the vehicle's related actuators; Compatible with most vehicle models on the market.
To improve car performance and enhance your experience as a driver or owner, you can change or add the functions by changing or adding certain modules that haven't already in your vehicle, such as adding a satellite navigation system, courtesy lamps, car phone, parking sensors, atmosphere lights, etc.;Compatible with Volkswagen, Audi, BMW, etc.
Come with the on-screen instructions to guide you on how to complete some complicated functions step by step; Compatible with Volkswagen, Audi, Skoda, Seat, etc.
Customize your car as you want. Help you make full use of the hidden functions and disable the annoying features; Available for BMW, Porsche, Toyota, Nissan, Peugeot, Citroen, Fiat, etc.
Autoauth and FCA SG W licenses are not supported. For Chrysler cars from 2018 and beyond have safety gateways, a Csryler 12 + 8 connector need to be added to perform AutoAuth Access function.
DTC Analysis
---
The DTC Analysis introduces the possible causes and solution path. The Ultra Intelligent Diagnostic integrates Repair Assists and TSB as the core thus improving the technician's repair level and repair efficiency.
Multitasking
---
 Thanks to Ultra's solid hardware, the split-screen display allows you to process multiple ongoing tasks simultaneously. Dramatically improve efficiency and make everything easier and more relaxed.
Dual Wireless Connection
---
Wi-Fi and Bluetooth make up a dual wireless connection for you. In either case, the connection guarantees the effectiveness and stability of information transmission. Rest assured, your message won't get lost!
Auto VIN
---
 The recently updated Auto VIN allows you to access the vehicle info in 3 different ways: Scanning the license plate, VIN code, and barcode! It's time to stop inputting the code manually. BTW, this feature is only available on MaxiSys Ultra!
Autel MaxiSys Ultra- All for Fastest and Simplest Utilization
WiFi Connection Between Ultra and VCMI

As Autel's most powerful and intelligent automotive diagnostic scan tool, Autel MaxiSys Ultra not only has normal strong BT or USB connection with the VCMI, but also has WiFi connection between Ultra tablet and the VCMI, which is faster, more stable and safer, give the technicians the a most smooth diagnostic.

Auto VIN/ Auto Scan/ VIN Scan/ Plate Scan

Autel 2022 top scanner MaxiSys Ultra not only can auto detect your car VIN, perform function via manually input VIN, but also can use the 16MP rear camera to scan the VIN/ License of the cars to obtain the car info, which brings the technicians more convenient diagnostic experiences.

Route Navigation, Multi-Screen Operation

Be crystal with every step you take: Autel MaxiSys Ultra displays the current function path(access), never again have no idea of where you are located after continuously clicking, just as convenient as the WINDOWS interface.

Car Computer Pro-gramming & Car Computer Co-ding

Autel MaxiSys Ultra car scanner covers all the functions of Autel MaxiSys MS919, MS909, Elite 2, Elite, MS908S Pro, MK908P, not only support advanced Car Computer Pro-gramming, Car Computer Co-ding, Bi-directional Control, 40+ useful service functions, but also support (remote) Car Computer Pro-gramming for specific BNEZ/BMW cars.

NOTE: Ultra only support specific BENZ/BMW Car Computer Pro-gramming, does not support Ford/Chrysler/GM or other brands' Car Computer Pro-gramming.
Other Features
Support More OE Equipments

Autel Ultra VCMI can works with more OE-related tools, supporting more high-end cars & new cars

Supports:

D-PDU/J2534/RP1210 Diagnostic Standards

Supports:

CAN-FD/DoIP
Supports: OE diagnostic Pro-grams for Land Rover, Jaguar, Volvo, Toyota, GM, Honda, Nissan, BMW, BENZ, Volkswagen, Hyundai, Kia, Mazda, Mitsubishi, Chrysler, etc.

Online Software Updates

OBD2 diagnostic scanner Autel MaxiSys Ultra offers 12 months of free online software updates. After 12 months, technicians can continue to upgrade by paying annual fees, or can choose not to upgrade, can still use the installed software. If need any support, please send email to the seller.

Package lists

Ultra Tablet, VCMI, Docking Station, Main Cable V2.0

USB 2.0(Cable V2), AC/DC Adapter(12V), Cigarette Lighter, Light Fuse

Clipper Cable, 4* Scope Test Lead, 2*Multimeter Test Lead, 2* Secondary lgnition Pickup, 2* Attenuator 20:1, 4*6 Breakout Lead, 1*2 Multimeter Probe, 2*2 Flexible Back-pinning Probe, 1*5 Back-pinning Probe – Red/Green/Blue/ellow/Black, 2* Back-pinning Probe Screw, 20* Back-pinning Probe Replacement Needle, 2*2 Small Crocodile Clip, 1*2 Large Dolphin Clip, Quick Reference, Guide, Carry Case.
---
The MaxiSys Ultra is Autel's most ambitious diagnostics tablet designed to diversify the knowledge pool of repairers.
It features a 13-inch touchscreen tablet with Android 7.0 OS powered by an Octa-core processor (2.3GHz Quad + 1.7GHz Quad), substantial 256GB built-in memory, powering the new split-screen multi-application navigation to provide diagnostic guidance and test components to confirm repairs.
Combined with the dynamic topology module mapping, enhanced Auto SCAN features and Intelligent Diagnostics options, the Ultra offers the technicians step-by-step repair guidance.
The new MaxiFlash VCMI functions as a 4-channel oscilloscope, waveform generator, multimeter, and CAN BUS tester. The convenient docking station featured ensures you always have the power to scan.
ps: Ultra does not support Auto auth and FCA SGW license. Chrysler cars from 2018 and later have a sCar Computerrity gateway. If you want to diagnose such models, you need to add a Chsryler 12+8 connector
Worldwide Vehicle Coverage
---
Thanks to MaxiSys Ultra's mighty compatibility with D-PDU, J2534 and RP1210 interface standards, so it can conduct more diagnosis and Pro-gramming for passenger cars and CVs comparing with other best-selling tablet scanners in the US market. It supports the OE software of Volvo, Land Rover, VW, Mercedes, and over 20 CV models.
Through years of accumulated market experience, we have included a total of more than 80 manufacturers and 140 vehicle models in vehicle coverage database. Such as Ford, GM, Chrysler, Toyota, Honda, Hyundai, Mazda, Lexus, VW, Audi, Volvo, Fiat, Porsche, Renault, Benz, BMW, Subaru, Acura, etc.
Autel MaxiSYS Ultra Package Content:
---
*Maxisys Ultra Main Unit
*MaxiFlash VCMI
*Main Cable V2.0
*USB 2.0 Cable V2
*AC/DC Adapter(12V)
*Cigarette Lighter
*Light Fuse 6x30mm 2PCS
*Clipper Cable
*Scope Test Lead 4PCS
*Multimeter Test Lead 2PCS
*Secondary Ignition Pickup 2PCS
*Attenuator 20:1 2PCS
*Breakout Lead 4x6PCS
*Multimeter Probe 1x2PCS
*Flexible Back-pinning Probe 2x2PCS
*Back-pinning Probe – Red/Green/Blue/Yellow/Black 1x5PCS
*Back-pinning Probe Screw 2PCS
*Back-pinning Probe Replacement Needle 20PCS
*Small Crocodile Clip 2x2PCS
*Large Dolphin Clip 1x2PCS
*Quick Reference Guide
*Packing List
*Soft Cloth
*Tool Box 177 x 102.5 x 23.5 mm
*Carrying Case 687 x 170 x 470 mm
We accept 
Credit cards、Debit card、Apple Pay、Google Pay、PayPal ect.
payment.
All major credit cards are accepted through secure payment processor PayPal.
Payment must be received within 3 days of auction closing.
When buying multiple items, please use the eBay shopping cart and check out once for all the items instead of paying for them individually.
When you click the Pay Now button, eBay will automatically determine if there are other items you have won or purchased from me and will combine them for your review.
Please Note
Import duties,taxes and charges are not included in the item price or shipping charges

.These charges are the buyer's responsibility.
Please check with your country's customs office to determine what these additional costs will be prior to bidding /buying.
These charges are normally collected by the delivering freight (shipping) company or when you pick the item up – do not confuse them for additional shipping charges.
We are not responsible for custom duties and related taxes. Orders will be shipped as a gift or as a sample. In general, no custom duties and tax will be charged.
The default shipping method is via UPS or USPS which will take about 3-7 business Days in transmit for the hot season is coming. Please kindly be patiently wait for your order.
We will ship according to your EBAY address but sorry that we can not accept P.O.BOX address.
Please make sure it's correct and include phone number via PayPal when you make payment. This will help your product to be received safely and quickly! And we are not responsible for order's delay or miss because of your incomplete contact information.
If you need to change your address, Please change it in PayPal first before you pay.
Items are generally shipped out within next 2 business days after payment has been verified. All items are shipped by Standard Registered Airmail.
Buyer Guarantee
We assure you that we are a honest and super reliable seller on ebay, any problems can be solved in a satisfing way for you and any loss will not be brought to you as long as you will kindly contact us via ebay message or your private email. Please kindly contact us firstly if your purchasing is in trouble before leaving any bad feedback including neutral and negative feedback and leaving 3 stars or less stars to me on 4 criteria.
Return Policy
Please return the item within 30 days after receiving if you are not happy with your purchasing.All returns are expected to be in original conditions, please email us first for return address and instructions.
WHO WE ARE?
We have been engaged for many years in the line of automobile diagnosing instruments and our corporation is established for the purpose of trustworthiness.
WHAT WE HAVE?
We have office in Shenzhen,China and 2 warehouses that are located in HongKong and US.We assure you not only good service but also to be ship as soon as possible.
We are committed to your satisfaction after your purchase.
If you are not satisfied with your purchase in any way please give us an opportunity to try and make it right before leaving feedback.
We will answer your questions within 1 working days.
Customer Service Hours: M-F: 9:00AM – 18:00PM BST (Beijing Standard Time)
---
On Jul 11, 2022 at 20:33:18 PDT, seller added the following information: