Electric Vehicle Part Info:
Autel MaxiSys MS919 ULTRA VCMI Programming Auto Diagnostic Scanner Coding Tool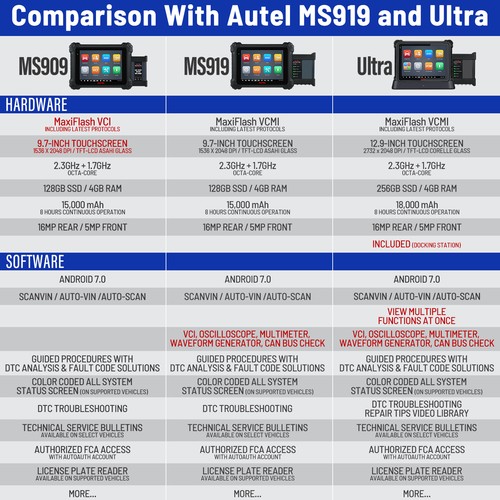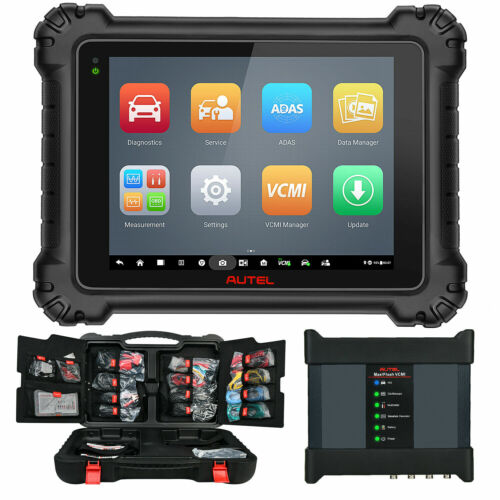 Autel MaxiSys MS919:
🏆【Autel New Autel MaxiSys MS919】The 2022 Autel Scanner newly released version of Autel MaxiSys MS919 is a more cost-effective tablet scanner which has covered all of the features that MK908P, MS Elite and MS909 have equipped. It's a diagnostic tool especially for pro mechs, auto repair chains since it has worldwide coverage for 99% of vehicles. The updated MS919 has emerged all of the features such as 5-in-1 VCMI, OEM Technical Service Bulletin, 10+ advanced functions, technical support.
🏆【MS919 5-in-1 VCMI, Same as Autel Ultra】The MaxiFlash VCMI is a small but complete and reliable lower computer with powerful hardware extensions such as oscilloscope, waveform generator, multimeter, and CAN BUS tester. It also supports multiple transmission protocols simultaneously such as KPW, CAN, CAN-FD, DoIP, etc. Only two of Autel tablets support VCMI and the MS919 can save you 1000 bucks comparing with MS Ultra!
🏆【Autel MS919 Intelligent Diagnostic & 38 Special Functions】As the most ambitious scanner developed by Autel, the MS919 is designed to diversify the knowledge pool of mechs, simplify the diagnostic process and bring out the potential of technicians. The newly added Repair Assist and TSB can consolidate and prioritize all detected fault codes. Also, it provides repair tips, videos, and related cases for your reference. The 36+ special functions can be the perfect solution for most of issues. Note: S

ervice Functions are NOT universally compatible. Please send VIN number to us to check before order.

  
🏆【 

Programming and Coding

】Peaking of the ECU coding & pro//gramming, the first thing come to mind maybe is: These only can be done by pros. But now, you're the pro! Thanks to the compatibility with many major protocols such as KPW, CAN, CAN-FD, DoIP, etc. Speaking of the CAN-FD, its transmission speed is 14 times faster than CAN. (Note: The CAN-FD only support post-2019 GM models)MS919 allows you to easily access deep into the ECU to find and solve problems. Note: Programming ONLY for Benz/BMW at present.
🏆【MS919 D-PDU, RP1210, J2534】To help you cope with more models that support different interface standards, we have pre-emptively followed in the footsteps of the times and have been compatible with D-PDU, J2534 (SAE J2534-1 & J2534-2), and RP1210 to help you conduct diagnostic and programming for passenger cars and commercial vehicles. The MS919 not only supports the original software of Volvo and Land Rover, but also supports Volkswagen and Mercedes-Benz, and other 20 more VC vehicle models.
🏆【

1 YEAR FREE SOFTWARE UPDATES + 1 YEARS WARRANTY + LIFTETIME TECH SUPPORTS

】Autel MaxiSYS MS919 Intelligent scanner tool comes with 12 Months Free Software Updates and is backed by 30 Days REPLACEMENT or FULL REFUND, 12 Months free from defects after-sales services and lifetime tech supports.   
 100% Original, FREE Shipping from US, Accept Offer!!!
---
2022 Autel MaxiSys MS919 Intelligent Automotive Diagnostic Scanner, OE-TSB, Repair Assist, 5-in-1 VCMI, Topology, Bi-Directional, 36+ Services, Upgraded of MS909 
As the Autel 2022 Newest Advanced Automotive Diagnostic Scanner Tool, Autel MaxiSys MS919 combines Full systems diagnostics, 36+ maintenance services, 5-in-1 MaxiFlash VCMI, functions as a 4-channel oscilloscope, waveform generator, multimeter, and CAN BUS tester. Autel MaxiSys MS919 is empowered by Intelligent Diagnostics. It's not only a diagnosis tool, but also tells you how to fix the malfunctions with detailed repair tips. With OE-TSB, Repair Assist, DTC analysis, and preset repair guidance and case database, it will save your numerous time and energy, making the car repair easier and faster than ever!
Please Notes: Autel MS919's default language is English & Spanish. MS919 has IP Restriction, it can only be used in North & South American. If used in other region, it will be locked.
Top Reasons to Choose Autel MaxiSys MS919:
1.  5-in-1 VCMI: integrated with 5 power functions: Oscilloscope, Waveform Generator, Multimeter, Can BUS tester, and VCI. It is a powerful tool to facilitate fast and complete diagnostic work.
2. 1-stop Intelligent Diagnosis: displays features such as OE Technical service bulletin (TSB), Repair Assist, DTC Analysis, repair guidance in one interface, making the repair work become handier for technicians. Advanced programming: for Benz and for BMW to improve vehicles performance.
3. 36+ Special Services: such as oil maintenance light reset, steering angle reset, injector coding, ABS bleeding, DPF regeneration…to meet all your maintenance needs.
4. 10+ High-End Functions: makes Autel MS919 more powerful. The functions include active test, guided functions, personalization functions, retrofitting, key fob programming, etc.
5. OE-level Topology Module Tree: with the color-coded module can present full-system diagnostic results.
6. Dual-Wi-Fi: makes the communication transmission speed faster, transmission more stable, and the anti-interference ability stronger.
7.  Auto-scan feature: allows technicians and mechanics to quickly diagnose and identify the car model by scanning the license plate, VIN, or barcode.
8. Cover Vehicles from 1996 to 2022: It supports protocols such as D-PDU, J2534, and RP1210, making it compatible with newly launched vehicles.
---
Autel MaxiSys MS919 Introduction:
【Supper Powerful Hardware, 2022 NEWEST】 
Autel MS919 as a Professional intelligent Diagnostic Tool is designed to maximize technician's intelligence. It features a 10-inch touchscreen tablet with Android 7.0 OS powered by an Octa-core processor (2.3GHz Quad + 1.7GHz Quad), 128GB built-in memory, 5MP & 16MP front and rear cameras, 15000mAh battery(8 hours of continuous use). MaxiSys MS919 as the 2022 New Release model, updated version of MaxiSys MS919/ Elite/ MS908S PRO, MK908P, comes with the best newer vehicle coverage Autel has yet to offer, covering 95% of post 2019 vehicles. With a winning combination of solid hardware and software, Autel MaxiSys Ultra ensures you a smooth and efficient diagnostic experience.
【INTELLIGENT OE-DIAGNOSTICS ,36+ SERVICE】
Autel MS919 Automotive Scanner Tool can perform various scheduled service and maintenance tasks including Oil Reset, EPB, BMS, ABS Brake Bleed, DPF, Injector, SAS, Suspension Calibration, Throttle Body Relearn, Window Door Sunroof and etc.  Compared with Autel MK908P/ Elite/ MS908S Pro, Autel MaxiSys MS919 Car Diagnostic scanner is empowered by Intelligent Diagnostics. It's not only a diagnosis tool, but also tells you how to fix the malfunctions with detailed repair tips. With OE-TSB, Repair Assist, DTC analysis, and preset repair guidance and case database, it will save your numerous time and energy, making the car repair easier and faster than ever!
Support D-PDU/J2534/RP1210 OE-diagnostic protocols
Support CAN FD/DoIP Protocols: Speed up to 4.05Mbit, 14 times faster than CAN2.0A/B.
Large bandwidth, high sampling rate, big buffer memory
NOTE: The CAN FD/DoIP protocols are not universal to all the vehicles. The CAN FD protocol is mostly applicable for GM produced in the second half of 2019, and the DOIP protocol mainly supports Volvo after 2018, Land Rover/Jaguar after 2017, F chassis and G chassis BMW.
【MORE INTUITIVE TOPOLOGY MAPPING】
Autel Maxisys MS919, professional car scan tool integrates System Topology Mapping technology. Compared with the old model Maxisys Elite/ MK908P/ MS908S Pro, Autel intelligent diagnostic scanner MS919 is able to display a CAN BUS tree with color coded modules in one page, which can present full system diagnostic results visually and make you work just to the point precisely. NOTE: Functions are not for all cars, Please send VIN to us to check compatibility before order.
【5-IN-1 MaxiFlash VCMI,VALUED $2000 】
Just like Autel Maxisys Ultra, MS919 comes with a same MaxiFlash VCMI connector, it's integrated with 5 power functions: Oscilloscope, Waveform Generator, Multimeter, Can BUS tester and VCI. Not just an interface, but a powerful tool to facilitate fast and complete diagnostic work with faster transmission speed, more stable and better anti-interference. you can presume your work at the range of 164 feet / 50m via Bluetooth, yet diagnosis speed increased by over 80%.
【ADVANCED PROGRAMMING & CODING】 
Autel Scanner MS919 supports both advanced & programming features, which make this high-end automatic scanner stands out in the diagnostic tool market. Owning Autel MS919 is equivalent to enjoying the high-end functions of several OE diagnostic tools of different vehicle brands. MS919 supports programming on specific BMW and Benz vehicles just like OE scan tools. You can use it to re-flash the ECU modules after replacement, or use the ECU Coding to unlock hidden functions and improve vehicle performance.
Note: Programming & Coding is not universal to all the cars, please check compatibility with us before you order.
【Active Test / Bi-directional Control】
Autel Maxisys MS919 intelligent diagnostic tablet comes with bi-directional control capability, you can test various systems or parts by reading the engine data, or by sending commands to actuators, such as solenoid tests, pump motor tests, relay, or switch to check the functionality.
Note: Active Tests are NOT universally compatible. Please send us VIN to check compatibility first.
【Directly Print Reports】 
Autel MS919 supports to print reports directly from any page, no need to connect to PC, click the "Print" from your MS919 and you'll get the report right away. Autel MS919 also allows for uploading diagnostic reports to Autel Cloud and sharing reports with customers through QR Code/ email/ text message easily, customers can view the reports at cellphone anytime.
Comparison of Ultra , MS919 and MS909:  
Autel MS919 Updates in 2022 Jan:
· GM: Adds ECU Information, Read Codes, Erase Codes, Live Data, Active Test, and Special Function for 33 models in 2022 including Cadillac CT4, Buick Envision, and Chevrolet Blazer. Adds 5 hot special functions: Automatic Start/Stop, Transport Mode, A/C, Rain/Light Sensor, and EGR.
· Toyota: Adds basic functions for 41 models in 2021 (including Yaris, and 4Runner), and 9 models in 2022 (including Corolla, and Hilux). Adds 3 types of Service function: ACC, A/C, and HV Battery.
· VW: Adds diagnostic supports for models including ID.6 X 2021, ID.6 Crozz 2021, Audi Q4 e-tron 2022, and CP – Tarek 2021.Updates basic functions, and special functions (including Oil Reset, EPB, and Odometer), supporting models up to 2022. Adds 258 hot guided functions including Battery, Headlight Washer, and Transport Mode. Adds Topology for makes including VW, Audi, Skoda, and Seat.
· JLR: Adds basic functions for 2022 PHEV models (Jaguar XE and Jaguar XF) and 2021 onward PHEV models (Discovery Sport and New Range Rover Evoque). Adds 35 special functions including Power Supply Service Mode Diagnostic, Purge Valve Self Test, Fuel System Leak Check (DMTL), and Fuel Tank – Smoke Test for 2017 onward models.
· Nissan: Adds basic functions for 23 models in 2021 (including Kicks, Versa, Infiniti) and 10 models in 2022 (including Armada, Pathfinder, and Frontier). Adds 1310 special functions for DTCs including P0440/P1440 – EVAP (small leakage), P1274 – Air-fuel ratio sensor 1, and P0134 – Heating Oxygen Sensor (HO2S) 1. Adds hot special function: HV Battery. Supports functions including Li-ion Battery Capacity Balancing, Clear Battery Gradual Capacity Loss, and Clear Batt Charge/Discharge Information Data.
· BMW: Optimizes basic functions, supporting models up to July 2021. Adds 7 hot special functions: Transport Mode, HV Battery, ACC, A/C, Rain/Light Sensor, EGR, and FRM Reset. Adds basic functions and special functions for models with 4 types of chassis including G22 and G82. Supports ECU programming version for models up to March 2021 with F/G chassis.
Autel MS919 Package includes:
We accept 
Credit cards、Debit card、Apple Pay、Google Pay、PayPal ect.
payment.
All major credit cards are accepted through secure payment processor PayPal.
Payment must be received within 3 days of auction closing.
When buying multiple items, please use the eBay shopping cart and check out once for all the items instead of paying for them individually.
When you click the Pay Now button, eBay will automatically determine if there are other items you have won or purchased from me and will combine them for your review.
Please Note
Import duties,taxes and charges are not included in the item price or shipping charges

.These charges are the buyer's responsibility.
Please check with your country's customs office to determine what these additional costs will be prior to bidding /buying.
These charges are normally collected by the delivering freight (shipping) company or when you pick the item up – do not confuse them for additional shipping charges.
We are not responsible for custom duties and related taxes. Orders will be shipped as a gift or as a sample. In general, no custom duties and tax will be charged.
The default shipping method is via UPS or USPS which will take about 3-7 business Days in transmit for the hot season is coming. Please kindly be patiently wait for your order.
We will ship according to your EBAY address but sorry that we can not accept P.O.BOX address.
Please make sure it's correct and include phone number via PayPal when you make payment. This will help your product to be received safely and quickly! And we are not responsible for order's delay or miss because of your incomplete contact information.
If you need to change your address, Please change it in PayPal first before you pay.
Items are generally shipped out within next 2 business days after payment has been verified. All items are shipped by Standard Registered Airmail.
Buyer Guarantee
We assure you that we are a honest and super reliable seller on ebay, any problems can be solved in a satisfing way for you and any loss will not be brought to you as long as you will kindly contact us via ebay message or your private email. Please kindly contact us firstly if your purchasing is in trouble before leaving any bad feedback including neutral and negative feedback and leaving 3 stars or less stars to me on 4 criteria.
Return Policy
Please return the item within 30 days after receiving if you are not happy with your purchasing.All returns are expected to be in original conditions, please email us first for return address and instructions.
WHO WE ARE?
We have been engaged for many years in the line of automobile diagnosing instruments and our corporation is established for the purpose of trustworthiness.
WHAT WE HAVE?
We have office in Shenzhen,China and 2 warehouses that are located in HongKong and US.We assure you not only good service but also to be ship as soon as possible.
We are committed to your satisfaction after your purchase.
If you are not satisfied with your purchase in any way please give us an opportunity to try and make it right before leaving feedback.
We will answer your questions within 1 working days.
Customer Service Hours: M-F: 9:00AM – 18:00PM BST (Beijing Standard Time)
---
On Jun-12-22 at 20:17:06 PDT, seller added the following information: