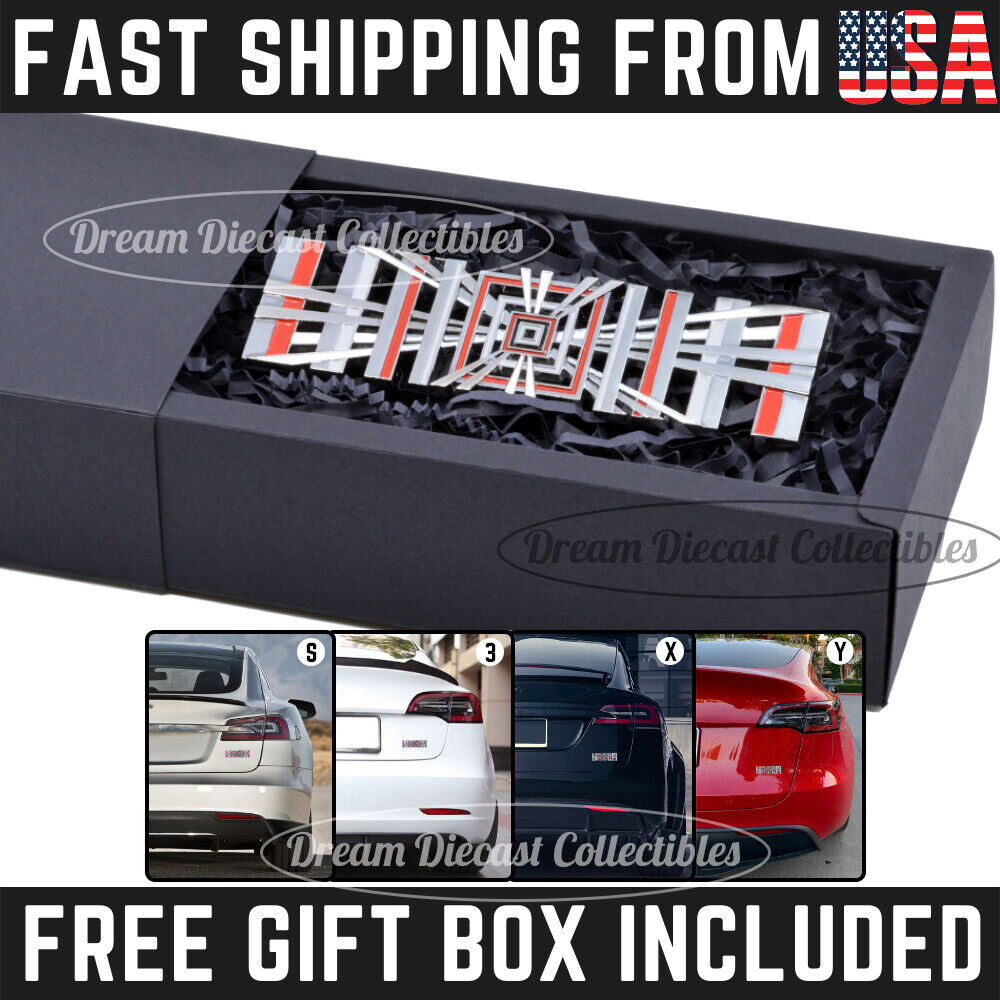 Price: 22.95 USD
Tesla Part Info:
3D PLAID BADGE EMBLEM LOGO FOR TESLA MODEL S 3 X Y PERFORMANCE 3M SELF-ADHESIVE
Brand New in Gift Box
Plaid badge for all Tesla S, 3, X and Y models with 3M™ self-adhesive already installed for easy application.
Only the first 25 owners were able to have the original version of this badge installed on their 2021 Model S Plaid vehicles that were delivered to them earlier this year at the Plaid event on June 10, 2021 in Fremont, California. Now is your chance to have an identical replica of that badge!
In stock and ready to ship from the USA. 
Don't wait weeks or months to receive from China, when you can receive in a few days and without any import duties or taxes to pay. We ship all orders within 24 hours and many orders ship on the same day if ordered early enough.
Features
• Identical to the original 3D Plaid badge. Chrome plated zinc diecast alloy with red and white stripes.
• Smooth to the touch and does not have any rough or sharp edges
• 3M double-side adhesive already installed for easy installation
• The perfect gift packaging included for beautiful presentation for such a work of art
• Made of zinc diecast alloy, light weight, strong and durable. Just like the badges from the factory
• A tribute to the 1987 comedy movie Spaceballs where the phrase "Plaid Model" was coined
Installation Instructions
1. If you already have a badge in place, this will need to be removed with a hair dryer or fishing line/dental floss. Be sure to remove any glue residue from the old badge. There are plenty of Youtube videos on how to 'debadge' your car.
2. Clean the area that badge will be installed
3. Peel off red backing from the double-sided 3M™ adhesive foam
4. Press badge firmly onto surface with the adhesive directly on the surface. Hold for 10-20 seconds to ensure proper firm installation
(Optional step) Now step back and admire how your cool new badge looks!
Presented in a black drawer gift box. Inside of the box the badge is packed in a small plastic pouch surrounded by black shredded paper for protection and beautiful presentation.