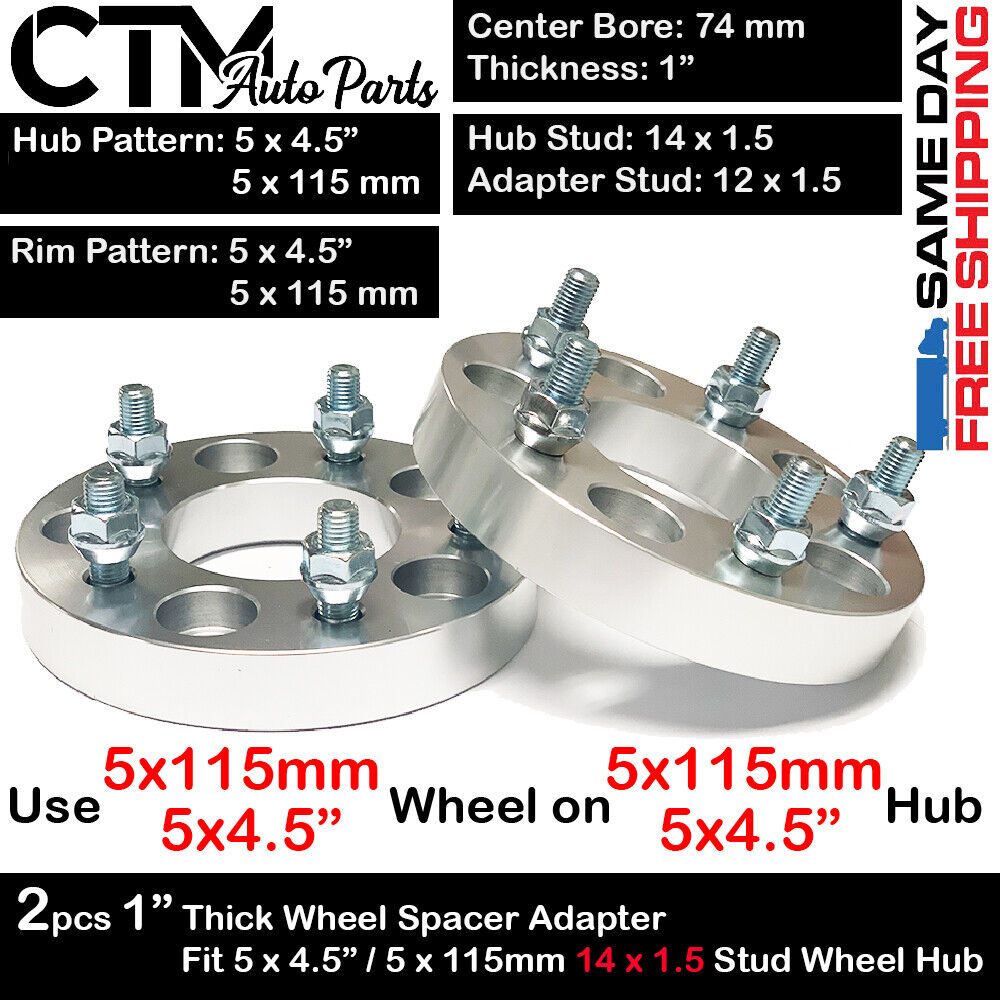 Price: 49.99 USD
Tesla Part Info:
2PC 1″ THICK 5×4.5″ | 5x115mm 74MM C.B. WHEEL SPACER FIT TESLA MODEL 3
About Adapter
Adapter Style: Tesla Wheel Spacer Adapter
Adapter Stud Pattern Connect to Hubcentric on Your Car: 5 x 4.5" OR 5 x 115mm
Adapter Stud Pattern Connect to Your Wheel: 5 x 4.5″ OR 5 x 115mm
Your Wheel Bolt Pattern Required to be: 5 x 4.5″ OR 5 x 115mm
Thickness: 1"
Inner Diameter (Center Bore): 74mm
Outside Diameter: 164mm
Adapter Open Lug Nuts Thread: 14×1.5 (Fit to your Hub Stud, If you have other Stud, Plz let Customer Service know)
Adapter Wheel Stud Thread: 12×1.5 (Fit to your Rim Lugs, You will need 12×1.5 LUG NUTS to Fit Adapter STUD)
Stud Grade: 10.9
Adapter Finish: Chrome
Material: Cold Forged 6061 T6 Grade Aluminum
Quantity: 2
Warning
Classic Vintage Models may have the stud changed, please confirm stud thread according to the existing lug nuts before buying
Please Strictly Follow the Capability Chart. This Set Only Fit Specific Models Listed in the Capability Chart. If Your Car is NOT listed in the Chart, This set MAY NOT work. 
Please Carefully Refer to the Capability Chart Showing Below
*If You Still Have Questions Please Ask Customer Service For Help
Lug nuts / bolts fitments are determined by actual wheel you use, the car model and year is only used to check stud thread.
Please carefully read part notes and descriptions regarding important notices. If you have questions, please ask at any time.
Return Policy:
Your happiness with the product is our top concern. We allow returns based on the following rules:
Return is allowed within 30-day of Purchase Date;
Return Product must be unused, intact, and with the original package;
Buyer is responsible for return shipping;
Please allow 3 business day after the delivery of your return for us to process the refund.
Please notify customer service prior starting a return to avoid the 10% RMA Restocking Fee.
Please use a specific return shipping address (not the ship-from address) to avoid the 30% Processing Fee.
If you have any questions or concerns, please do not hesitate to let us know.
Shipping:
All shipments will be shipped via USPS Priority Mail Or First Class Mail (Same-Day);
Order placed before 9:00 am PST will be shipped on the same day. Order placed after 9:00am will be shipped promptly the next business day.
If you wish to cancel or modify order, please notify Customer Service before 8:00 am PST or we won't be able to change/cancel your order prior to shipping.
We also provide local pickup service! Contact us for more information.
Warranty:
30-Day Return Policy;
For Colored Lug Nuts (Any color other than Chrome), we suggest the use of manual torque for installation to avoid damage to the paint layer. Warranty is voided if power tool is used.
Disclaimer:
Professional Installation is recommended;
Please use proper power tools and/or manual installation torque to the specification to the vehicle's recommended torque (found on vehicle's operator manual);
Our liability is limited to the purchase price of the listed product.
By purchasing this product, you acknowledge that you fully understand the information and terms listed above.