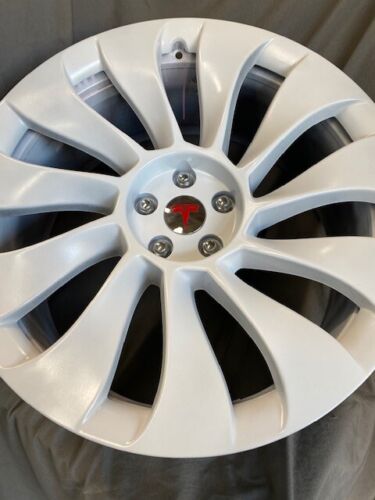 Price: 795.00 USD
Tesla Part Info:
21″ TESLA MODEL Y 2020-2021 UBERTURBINE WHEELS (POWDER COAT EXCHANGE)




This listing is for what is known as a powder coat exchange for the 20″
Tesla
Model Y
factory induction wheels. We are NOT selling the wheels. We are selling the service of a powder coat exchange on the wheels. You MUST have the same exact wheels on your car to be able to purchase this powder coat exchange service. Once you place your order, the wheels are prepared for you as a custom order. Before the wheels are shipped, we will collect an $1,800.00 core deposit on our wheels. A core credit refund will be issued to you once you have sent back your exchange set. There are optional center caps as well as
lug nut
covers available for an additional charge. We accept Visa, MasterCard, Discover & American Express credit card payments, Venmo, Zelle & PayPal. Please contact us for any additional information regarding these wheels or any other
Tesla
model wheels. These wheels are also available chrome plated.
Pictures are for display purposes only. You can choose from many colors and finishes. 
This listing is an "
Exchange Sale
". An Exchange Sale requires the return of your old wheels*. All Exchange Sales require a Refundable Core Deposit to be paid along with the cost of the wheels. The Refundable Core Deposit amount for this listing can be found in the "Items Specifics" box. You will be contacted after the item is purchased by a Greens OK Tire representative to arrange payment of the deposit. 
*The wheels being sent back must be the same style and size as the OEM wheels that you are purchasing. The wheels must also be in a finish such as, painted, polished, or machined. Chrome Plated and Chrome Clad wheels are not accepted. All wheels are subject to inspection upon arrival to our facility. Wheels with minor cosmetic damage may be accepted without any additional charges. Wheels found to be bent or with extensive damage are subject to additional charges or may be rejected entirely.