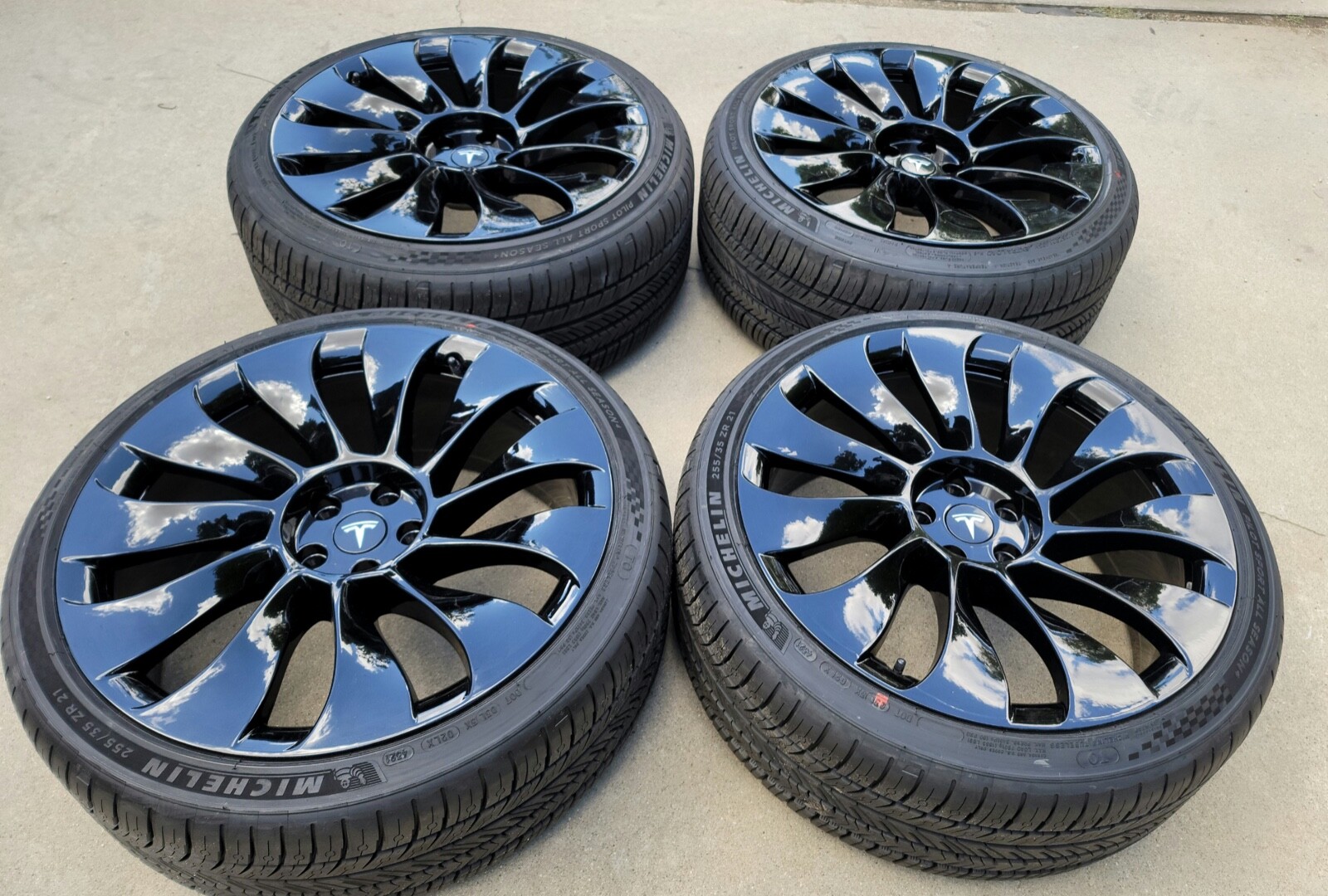 Price: 3,996.00 USD
Tesla Part Info:
21″ NEW OEM FACTORY TESLA MODEL Y UBERTURBINE GLOSS BLACK WHEELS TIRES SENSORS.




WE HAVE 100% FEEDBACK SO PLEASE BID WITH CONFIDENCE KNOWING THAT YOU WILL GET WHAT YOU ARE PROMISED. 
CALL/ TEXT/ WHATSAPP ME ROY AT 626 315  5775 FOR MORE INFO.
OUR COMPANY THE WHEELS REVOLUTION SELLS ALL KINDS OF THE LATEST HIGH-END WHEELS IN BRAND NEW CONDITION FOR A LOT CHEAPER THAN THE DEALER PRICE. PLEASE CLICK ON "SEE OTHER ITEMS" (ALMOST ON THE TOP RIGHT CORNER OF THIS PAGE) OR CLICK ON http://stores.ebay.com/thewheelsrevolution TO VIEW THE REST OF MY AUCTIONS. 
CALL OR EMAIL US IF YOU WANT TO SHIP THEM OUT OF COUNTRY.WE SHIP TO ABOUT 30 COUNTRIES SO FAR WITH NO PROBLEMS AT ALL. THE WORLD IS GETTING CLOSER.
BUY IT NOW PRICE IS $3,996.00.
DESCRIPTION: YOU ARE BIDDING ON A SET OF (4) BRAND NEW OEM FACTORY ORIGINAL  21″ TESLA MODEL "Y" WHEELS TIRES SENSORS. 
IMPORTANT NOTICE: YOU SEEM TO SEE: A LOT OF WHAT LOOK LIKE SCRATCHES TOWARD THE CENTER OF THE WHEELS BUT THEY ARE NOT SCRATCHES. THEY ARE SIMPLY REFLECTIONS OF THE SPOKES. 
AGAIN TIRE PRESSURE MONITORING SENSORS ARE INCLUDED.
THAT'S AN EXTRA $400.00 FROM THE DEALER. IN MOST CASES THEY SHOULD WORK FINE BUT I DON'T GUARANTEE 100% THEY WILL WORK WITH YOUR YEAR MODEL BECAUSE DIFFERENT YEAR MIGHT USE DIFFERENT SENSORS. IT IS ALWAYS RECOMMENDED TO INSTALL THE SENSORS THAT CAME WITH YOUR CAR SINCE SENSORS ARE VERY SENSITIVE AND SOMETIMES DIFFERENT YEAR/ MODEL USES DIFFERENT FREQUENCY SENSORS. THE FIRST THINK THE DEALER ASKS IF YOU WANT TO BUY THE SENSORS IS THE VIN# (VEHICLE IDENTIFICATION NUMBER) OF THE CAR. THAT SHOWS HOW SPECIFIC THE SENSORS ARE. IF THEY DON'T WORK YOU JUST HAVE TO TRANSFER FROM THE ORIGINAL WHEELS. NO REFUND ON SENSORS.
BOLT PATTERN: 5 X 114.3 MM.
TIRES: THE SUPER EXPENSIVE MICHELIN PILOT SPORT ALL SEASON4 WITH 100% TREAD AND WITH TESLA SPECS MEANING MICHELIN MAKES THEM FOR TESLA SPECIFICATIONS ONLY. YOU CAN SEE THE WORD ""TO"" (MEANING TESLAONLY) ON THE SIDEWALL. THESE TIRES ARE ABOUT $1,800.00 AT TESLA DEALERS.
FRONT WHEELS: 21 X 9.5″ OFFSET 40MM WITH 255/35 ZR21. 
REAR WHEELS: 21 X 10.5″ OFFSET 48MM WITH 275/35 ZR21.
CHECK MY OTHER AUCTIONS AND MY 100% FEEDBACK. 
SELL YOUR OLD WHEELS AND UPGRADE TO THIS ABSOLUTELY BEAUTIFUL SET.
YOU ARE WELCOME TO SEE THEM IN MY SHOP. I'M IN LOS ANGELES AREA. LOCAL PICK UP IS WELCOME. THANK YOU FOR LOOKING AT MY AUCTIONS. GOD BLESS. 
LOS ANGELES COUNTY RESIDENTS HAVE TO PAY 9.50% SALES TAX.
CALL/ TEXT/ WHATSAPP ME ROY AT 626 315  5775 FOR MORE INFO.