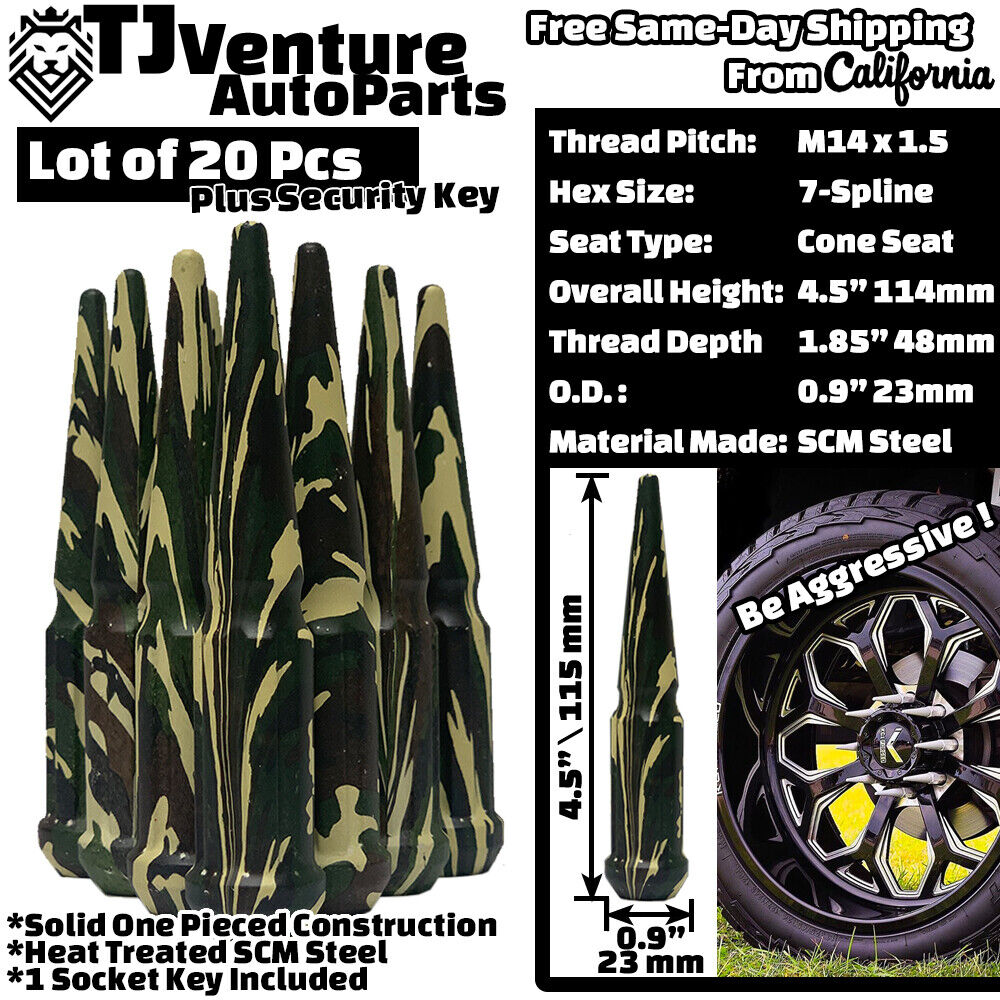 Price: 44.99 USD
Tesla Part Info:
20x Camo 4.5″ Spline 14×1.5 Spike Lug Nut+Key Fit Tesla Model 3/X/Y/S All Year




** Please Check Your Wheel and Model Together **
** Compatibility Chart is for Thread Pitch Check Only **
** Wheel Lug Shape is Determined by Your Wheel Requirements **
** Do not Guarantee Fitment with Wheel Cap **
Product Specification:
About Spike
Lug Nut Thread Pitch: M14x1.5
Lug Nut Seat Type: 60 Degree Cone Seat
Lug Nut Hex Size: 7 Splined Drive (3/4″ Hex)
Lug Nut Overall Diameter: 0.9″(23mm)
Lug Nut Overall Height: 4.5″(115mm)
Lug Nut Thread Depth: 1.85″(48mm)
Lug Nut Finish: Camo
Lug Nut Material Made: SCM Steel
About Socket Key
Socket Type: 7 Spline Tuner Spike Lug Nuts Socket
Socket Drive: 1/2″ Drive (Occasionally 13/16″ & 7/8″ Hex Drive)
Socket Fit Lug Nuts: 7 Spline Typed Lug Nuts
Socket Overall Diameter: 1.05″(26.5mm)
Socket Overall Length: 4.85″(123mm)
Socket Material Made: SCM Steel
Max Torque Power: 120 ft-lb
Requirements of the Vehicle Specification
Required Vehicle Hub Thread: M14x1.5
Maximum Wheel Stud Length: 1.85″(48mm)
*If Your Stud is Longer Than the Maximum Allowance, You MUST Trim the Stud.
Requirements of the Wheel Specification
Required Vehicle Wheel Lug Nuts Seat Type: Cone Seat
Required Vehicle Wheel Lug Nuts Hex: 3/4″ or Smaller
Requirements of the Wrench Size
Required Wrench Socket Size: 7 Splined (Provided)
What You Will Receive:
20    pcs Lug Nuts
1      pc  Socket Key
Compatibility Chart and Important Part Note:
Please Carefully Check for Generation information
Return & Exchange Policy:
Your happiness with the product is our top concern. We allow returns based on the following rules:
Return & Exchange is allowed within 30-day of Purchase Date

Return Product must be unused, intact, and with the original package

Buyer is responsible for return shipping charge

Buyer is responsible for all exchange shipping charge

Please allow 3 business day after the delivery of your return for us to process the refund.

15% RMA Restocking Fee is applied to all Adapter/Spacer/Spike orders.

Please use a specific return shipping address (not the ship-from address) to avoid the 30% Processing Fee.

If you have any questions or concerns, please do not hesitate to let us know.
Shipping:
All shipments will be shipped via Fedex 2 Days (Same-Day), If your address is not qualified for FedEx Service, it will be shipped via USPS Priority Mail (2-5 Days).

Order placed before 9:00 am PST will be shipped on the same day. Order placed after 9:00am will be shipped promptly the next business day.

If you wish to cancel or modify order, please notify Customer Service before 9:00 am PST or we won't be able to change/cancel your order prior to shipping.

We also provide local pickup service! Contact us for more information.
Warranty:
30-Day Return Policy;

For Colored Lug Nuts (Any color other than Chrome), we suggest the use of manual torque for installation to avoid damage to the paint layer.

Warranty is voided if power tool is used

Abuse of Usage (Excessive power torque) will not be covered by Warranty
Disclaimer:
Professional Installation is recommended.

Please use proper power tools and/or manual installation based on the vehicle's recommended torque spec (found on vehicle's operator manual)

Our liability is limited to the purchase price of the listed product.

By purchasing this product, you acknowledge that you fully understand the information and terms listed above.