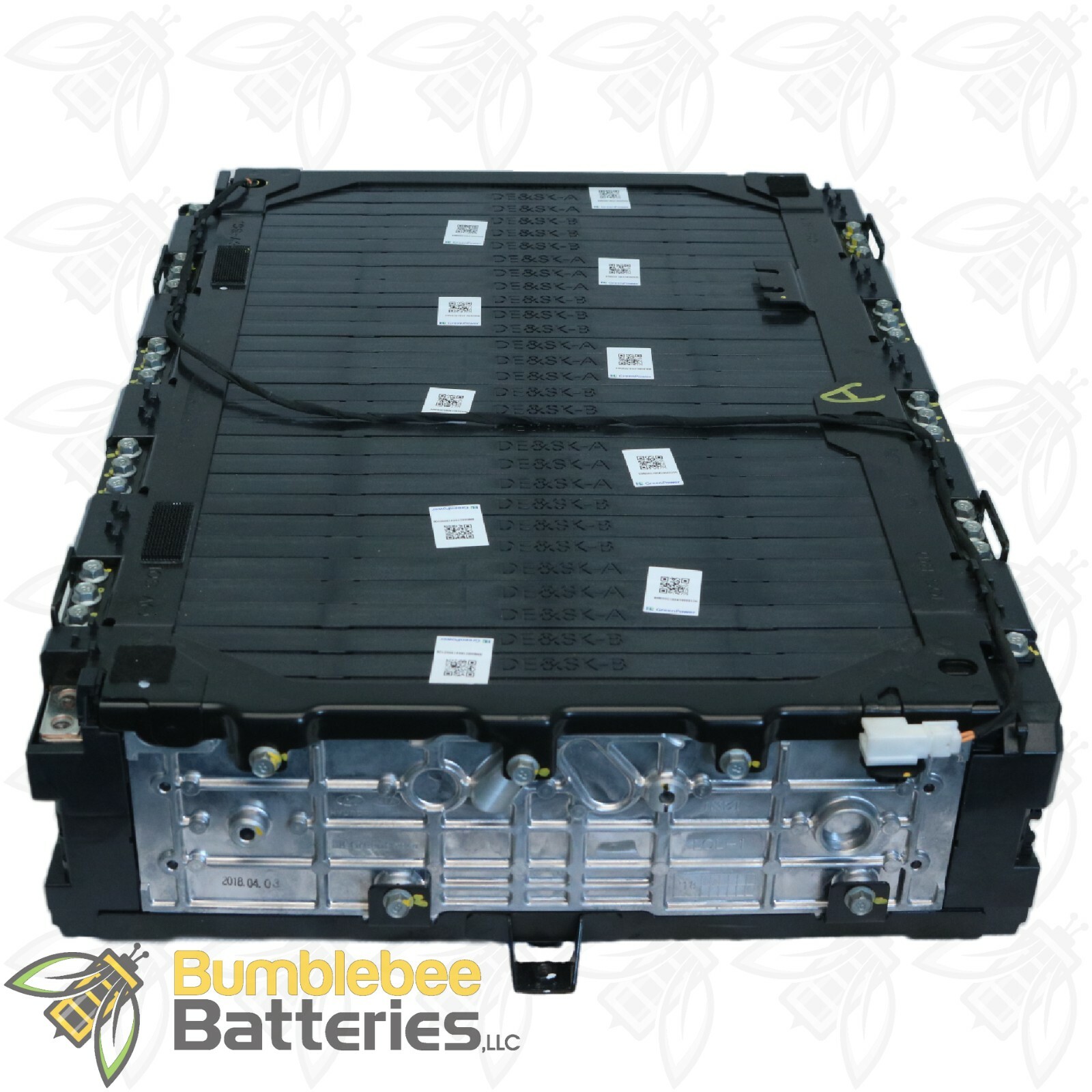 Price: 1,399.99 USD
Electric Vehicle Part Info:
2019 Kia Niro-EV 6.5kWh 10s 36V Lithium-Ion Battery Module
DESCRIPTION
You are purchasing one used 2019 Kia Nero-EV battery module. Cells are made by SK Innovation. Modules are stamped with a date code from April of 2018. These high power battery modules are perfect for an electric car, DIY EV, eBike, eScooter, eMTB, eSK8, golf cart conversion, solar energy storage, battery backup, UPS, powerwall, RV power storage, etc.

These are used cells (which is why they are so cheap!), therefore capacity and other specs on this listing may vary. We strongly recommend testing each module that you buy to confirm it will meet the needs of your application.

These modules were sitting on a thick thermal pad when installed in the car. This thermal pad leaked silicone oil onto the bottom of the modules. The oil is non-conductive and non-corrosive, though it may be aggravating to skin. We have done our best to clean off this oil, but there will still be traces of it on the module you receive. Please be aware of this when lifting/handling these modules, as the oil is very slick and the modules are very heavy. 

If you have any questions about this listing, please don't hesitate to contact us!
FEATURES
SPECIFICATIONS
Battery Type
10s3p (10 cells in series, 3 cells in parallel)

Nominal Voltage
3.6V per cell  –  36.0V per pack

Charge Voltage
4.2V per cell  –  42.0V per pack
Mfr. Rated Capacity
60Ah per cell  –  180Ah per module (actual capacity may vary)
Mfr. Rated Energy
216Wh per cell  –  6480Wh per module (actual stored energy may vary)
Mfr. Rated Discharge
475A maximum discharge, non-continuous
Mfr. Rated Charge
20A standard charge rate – 280A fast charge rate to 80% SOC
Dimensions
18″ x 16″ x 5″ (450mm x 400mm x 130mm)  –  68lbs (31kg)
BMS
Yes, though it's functions are unconfirmed.
Cycle Life
Our research did not uncover a published specification. 
Tested? (Y/N, Type)
Yes, basic voltage probe to check for dead (0.0V) modules. 
Test Results
Module/pack is at proper storage voltage (30% ~ 50% SOC). Individual cell voltage has not been tested and is not guaranteed to be balanced.

Module/pack capacity and delivered energy has not been tested and is not guaranteed to meet the manufacturer specs listed above. 

Testing battery modules adds labor cost to every pack we sell, and the more in-depth the testing, the higher the labor cost. If there are no test results on a product listing, it's because we don't want to pass those costs on to you! If there are test results on a product listing, then we have completed those tests on every one of those products in our inventory (unless stated otherwise).
return policy
| | |
| --- | --- |
| | We accept returns within 30 days of purchase. If you decide to honor us with your business and something is not living up to your expectations, we ask that you contact us as soon as possible and give us a chance to make it right! The buyer can return a product which they no longer want for a full refund of the product cost, however the buyer must cover return shipping. We do not accept returns of products which have been broken/rendered unusable while in use by the buyer. If we have made a mistake on our end (sending the wrong product, product arrives and it's not as described, product is damaged in shipping, etc.), we will make it right. We want to make sure our customers are taken care of, because a happy customer is more likely to honor us with their business again! |
Product Warning
High power batteries (Li-Ion, LTO, NiMH, NiCd, etc.) can be very dangerous if used improperly. Always be sure to exercise proper caution when working with these kinds of batteries. Educate yourself on all applicable safety precautions, and only work within your abilities. Use these batteries at your own risk! Bumblebee Batteries LLC is not responsible for injury, property damage, or death resulting from the use or misuse of our products. 

By purchasing a product from Bumblebee Batteries LLC, buyer agrees to:

Assume ANY and ALL RISKS of INJURY OR DEATH resulting from use of the product,

WAIVE, RELEASE, and NOT SUE, MAKE ANY CLAIMS OR FILE ANY ACTIONS against Bumblebee Batteries LLC, or any one of the aforementioned entities and each of their insurance carriers, subsidiaries, affiliates, officers, directors, shareholders, members, representatives, assignees, employees, volunteers and agents, as well as any manufacturers and distributors (hereinafter the "Indemnified Parties" collectively, the "Indemnified Party" individually) that are based on, arise or result from, in whole or in part, use of the product, and

INDEMNIFY, DEFEND AND HOLD THE INDEMNIFIED PARTIES HARMLESS, from any and all claims, demands, actions, causes of action, losses or liabilities whatsoever arising from or related to participation in any activity and any loss, damage or injury, including death, that may be sustained by buyer or assignee, or caused to others or their property by buyer or assignee.  Buyer also agrees to pay all costs, including reasonable attorneys? fees and disbursements, incurred by any Indemnified Party in defending an investigation, claim or suit brought by or on behalf of Buyer or assignee.