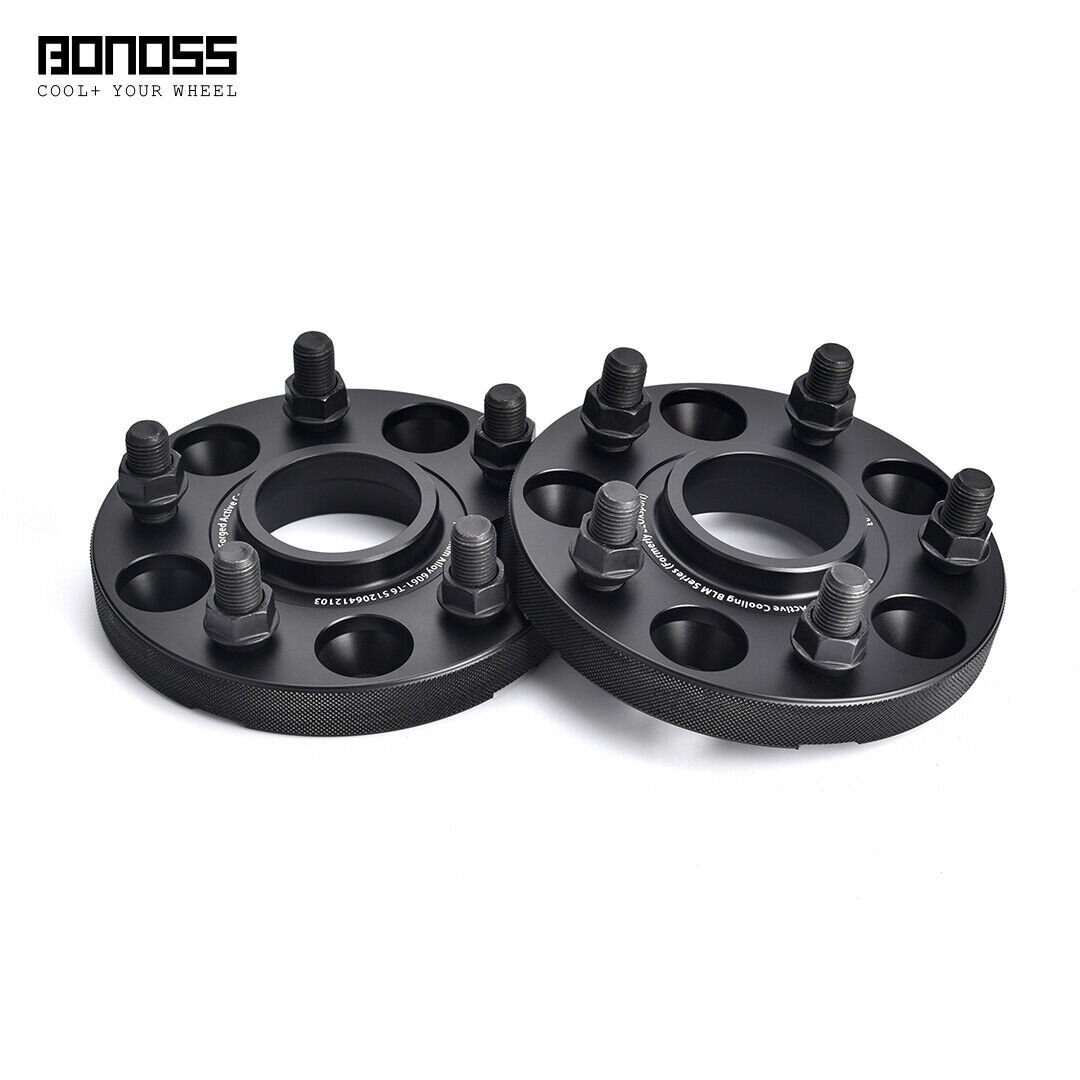 Price: 125.33 USD
Tesla Part Info:
2 3/4INCH THICK FITS ACURA MDX HONDA TESLA MODEL S/X WHEEL SPACERS 5X120 64.1 CB
STORE CATEGORIES
RECOMMANDED
ITEM DESCRIPTION
BONOSS FORGED WHEEL SPACERS ADAPTER KIT

Quantity

2Pcs(1 Pair)

Spacer Material

Forged Aluminum 6061T6

Vehicle Bolt Pattern/PCD

5×120 

Stud Material

SCM440 Alloy Steel

Wheel Bolt Pattern/PCD

5×120

Stud Grade

ISO Grade 12.9

Wheel Spacer Thickness

20mm / 3/4″ inch


Lug Nut(Cone Seat)

40Cr Alloy ISO Grade 10

Spacer Center Bore/CB

64.1MM

Manufacturing

Forged

Stud/Lug Nut Thread

M14x1.5 / 14m*1.5


Lug Nut Head HEX

19mm

Certificates

Reports of TUV/SGS

Torque Specs

140NM(103.5 Ft-tb)
Global Pioneer Active Cooling Technique, Safer

Forged AL6061-T6 with Tensile Strength ≥ 310 Mpa, Safer

ISO Grade 10 Nuts with BONOSS Engraved, Strength ≥ 1110 Mpa, Safer
ISO Grade 12.9 Studs with BONOSS Engraved, Strength ≥ 1220 Mpa, Safer

Customized Only in 1-3 Days, OEM/ODM Available, More Professional

Over 66 Test Reports by SGS TÜV Certificated, More Professional

Worry-free 

10

 Years Warranty, Friendly Customer Service
Important Note: Please confirm these points before buying.
 

1. This part is compatible with the 15-21 Honda Civic Type R FK2 FK8, Honda Ridgeline, Pilot, Odyssey, Tesla Model S/X, Acura MDX 2007+, 09-14 Acura TL SH-AWD etc. To confirm that this part fits your vehicle, please attached your car, make, and year.
1. Are BONOSS Acrua/Honda/Tesla wheel spacers safe?

Yes. wheel spacers are just the automobile accessories installed between the assembly hub and wheel, the wheel lugs apply a clamping force to secure the spacer and wheel to the vehicle hub. Just like wheels, tires, and brake systems, as long as you use high-quality wheel spacers and install them properly, they are safe. BONOSS is always concerned about safety. Take the 5×114.3 wheel spacers as an example, we use forged AL6061-T6 material (tensile strength ≥310Mpa), modern CNC machining by 0.02mm tolerance, the multi-stage hub centric design fits the wheel hub better. Meanwhile, the matching wheel studs adhere to ISO standard grade 12.9, and ISO standard grade 10 lug nuts, all of our products have got more than 50 SGS TUV authoritative test reports. Compared with those cheap casting wheel spacers, BONOSS forged active cooling wheel spacers are safer, higher performance, and more professional in design. We believe more professional production offers more value for customers.

2. Why do I need hub centric wheel spacers? What's the difference between BONOSS multi-stage hub centric wheel spacers and others hub centric?
Hubcentric wheel spacers offer a better system of support and stability. They are designed to make a snug connection between the wheel and vehicle hub, reducing the high-speed vibration and ensuring safer driving. Compared with an ordinary hub centric. BONOSS uses the multi-stage hub centric design, which means that multi-stage hub-centric can make the spacers more closely fitted to the wheel hub, greatly reduce the vibration of high-speed caused by the inaccurate hub centric. Besides, they can also be used to change the center diameter of your car, making it possible to install wheels with different center diameters to your vehicle properly, transforming lug centric wheels into hub centric wheels.
3. What is the performance of the bolts and nuts used with BONOSS active cooling wheel spacer? Why is there a BONOSS engraved on it?
The wheel studs of the wheel spacers produced by BONOSS are made of JIS SCM440 steel. Wheel lug studs made of forged SCM440 alloy steel have many outstanding characteristics, such as high-strength, wear resistance, excellent toughness, and impact resistance. It also has the advantages of good ductility and high-temperature stress resistance, structural stability, fewer harmful elements, and fewer surface defects. It has reached ISO standard grade 12.9, tensile strength ≥1,220Mpa, ultimate tensile load ≥152,000N, hardness (HV) ≥395, NSS≥500H…The matching nut is made of 40Cr material, after high-strength forging, in line with ISO international standards Grade 10, proved that the load is ≥1110Mpa, the hardness (HV) is ≥349…they are enough to cope with the fierce racing competition. For normal driving, they can easily withstand thousands of strong shocks. BONOSS insists on producing professional forged wheel spacers and provides wheel spacer far higher than the industry's safety and professional standards.
4. How does the "active cooling" function works on my wheel spacers?

As a professional wheel spacers manufacturer, BONOSS has created the world's first "active cooling" technology based on years of experience, breaking the long-term single function of the wheel spacers. Through the rotation of the wheel spacers, the external cold airflow takes away the internal heat through the active cooling grooves, so as to achieve the purpose of active cooling, improve the braking efficiency and reduce the risk of driving safety. Installing BONOSS forged active cooling wheel spacers can improve braking efficiency, maintain the brakes at normal temperature, and ensure your driving safety. The production cost of BONOSS "active cooling" technology is almost the same as that of traditionally designed wheel spacers. You don't need to pay extra, that's why we say that BONOSS forged active cooling wheel spacers are particularly price-friendly. BONOSS wheel spacers provide more additional functions, higher safety, higher performance, more professional design, and better installation experience.

5. What are the benefits of the knurling design on my wheel spacers?

The knurling design can enhance the aesthetics of the wheel spacers by introducing an attractive pattern to the side surface. In addition to aesthetics, there are practical features. Knurling patterns can enlarge the side area so that it can contact more air, boost the heat dissipation effect, and reduce the internal stress caused by machining. That means improving the performance, strength, and durability of the wheel spacers. BONOSS aims to provide wheel spacers with more additional functions, safer, higher performance, more professional design, and better installing experience, that is why we insist on independent manufacturing and continuous optimization of the design.

6. How thick wheel spacers do I need?

Here is a simple method: use a straight edge such as a metal ruler, place the straight edge on the outermost part of the rims where the wheel comes closest to the fender (preferably the top), then, measure from the outside wheel to the straight edge. This distance is the size spacer you will need to achieve the look that flushes or nearly flushes with the fender line.
7. Can I customize the wheel spacer with different thicknesses and data? How soon can it be customized?
BONOSS has an independent design customization department and customized production line, so custom-sized wheel spacers can be completed within 3-10 days as soon as possible. Provide OEM/ODM. Commonly used 1-inch wheel spacers stocks are sufficient, if you need wheel spacers with irregular thickness or torque, to install wheels with different data. BONOSS customized wheel spacer will be your best choice. BONOSS provides customized services of unconventional thickness, the thinnest thickness is 0.1 inches (3 mm), the thickest thickness is 6.4 inches (160 mm).
8.Why BONOSS choose SGS and TUV to test the quality of the product?
SGS and TÜV Rheinland as the world's famous testing service companies, standing for safety and quality. To earn customers' trust, which is also our confidence in product quality. BONOSS has fully passed over 66 ISO standard SGS, TÜV authoritative tests, and all achieved excellent scores.BONOSS forged grade 12.9 extended wheel bolts have passed the SGS 2,000,000 times limited life range test without damage, tensile strength≥1,282Mpa, ultimate tensile load≥152,000N, hardness (HV)≥395, NSS≥500H… By these authoritative test reports, BONOSS truly achieves the quality and professionalism expressed in the form of data and truly guarantees safety. We believe high standard quality management, together with authoritative certification reports is the best way to meet customer and regulatory requirements. If you need more details reports, please feel free to contact us.
PAYMENT
1.Remove original wheel bolts and wheel.
2.Put BONOSS Wheel Spacer on hub of car (where hold the wheel) Please ensure that the spacer is fully seated and flush with the hub.
3.Put wheel onto the spacer and match the wheel & spacer bolt holes and mounting hole.
4.Insert new longer BONOSS wheel bolts. Carefully hand turn bolts making sure that they spin in easily and fit well.
5.Repeat above step with the bolts left.
6.Use hand wrench to tighten extended bolts in a star pattern.
7.Spin the wheel and tire to check whether it cause any noise or interference or not before fully tightening bolts.
8.Use torque wrench set with wheel manufacturers' specifications to tighten the longer bolts in a star pattern

SHIPPING
–We are not responsible for custom duty or import tax.
–All Orders that Payment is received before 5pm Beijing Time M-F will be shipped the same day, if received after that time, they will be shipped the next business day, Saturday and Sunday orders will be processed and Shipped on Monday.
—All orders are shipped by DHL/FedEx/UPS within the continental United States. Other international Shipping is available. You need to contact us confirming express method and accounting shipping costs.
–Your purchase will be shipped via standard airmail, which normally takes 3-10 working days to arrive.
–We will provide you with tracking numbers when the item is shipped out.
RETURNS
14 days money back, buyer pays return shipping.

FEEDBACK
More and more customers believe in BLOXSPORT's profession, so choose us.
ABOUT US
BLOXSPORT have been specializing in manufacturing the wheel parts for 8 years. We supply wheel nuts/bolts(Locking/Classic…), wheel spacers(3mm-120mm, 1″ inch etc.), custom wheel adapters 5 lug to 5 lug; 4 lug to 4 lug; 5 lug to 6 lug;6 lug to 8 lug… We refuse to use the wheel spacer made of casting aluminum and the bad quality bolt/stud, lug nut. We insist in using the forged aluminum alloy and high quality bolt/stud,lug nut(passed the 1 Million times Fatigue Test,etc.).
We always insist on four concept respectively:
1.insistence on the service philosophy that safty is No.1 and creating the value for our customers.
2. insistence on designing and producing by ourselves in order to make sure the our product's stability of the quality and reliability.
3. insistence on the test from the third party.
4. insistence on requiring ourselves to live up to the highest standard among our rivals in order to make sure that our product will be in the perfect condition in our customer's hand (not only the best quality but also there's no scratch on our products which has been sent to our customers).
FEATURED PRODUCT
Copyright © 2021 BLOXSPORTS. All Rights Reserved.